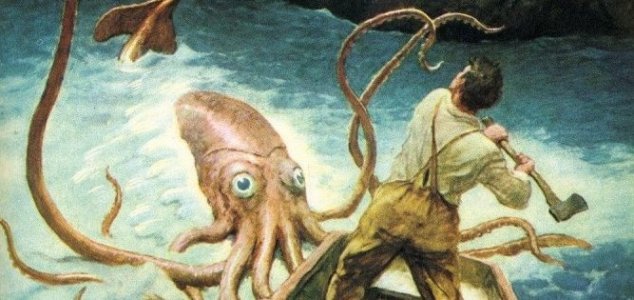 The giant squid has long inspired tales of tentacled sea monsters.

Image Credit: Free Library of Philadelphia
For the first time ever, scientists have successfully sequenced the genome of the elusive giant squid.
Growing to sizes in excess of 40ft long, this gargantuan cephalopod, which had been the subject of mariner's tales for centuries, was only officially recognized relatively recently.
Even after the first photograph of a live giant squid was captured in 2004 and the first footage was recorded in 2012, there is still much about this extremely elusive species that we just don't know.
Now though, the shroud of mystery surrounding the giant squid has been peeled back just a little more thanks to a team of scientists who have succeeded in sequencing its genome for the first time.
Given the absence of a live specimen, the research had to be carried out on a corpse.
The scientists, who were led by the University of Copenhagen's Rute da Fonseca, discovered that the giant squid's genome is 90 percent the size of our own with a whopping 2.7 billion DNA base pairs.
One of the most intriguing things they found was that the squid, which has one of the largest brains of any cephalopod, also possesses 100 genes in the protocadherin family - something that is typically associated with "wiring up a complicated brain correctly."
This could tentatively indicate that the giant squid may be quite intelligent.
"A genome is a first step for answering a lot of questions about the biology of these very weird animals," said squid and octopus expert Caroline Albertin from the Marine Biological Laboratory in Woods Hole, Massachusetts.
"While cephalopods have many complex and elaborate features, they are thought to have evolved independently of the vertebrates. By comparing their genomes we can ask, 'Are cephalopods and vertebrates built the same way or are they built differently?'"
As things stand however, even with its genome sequenced, the giant squid remains surrounded in mystery. How does it mate ? What does it eat ?
These are just some of the questions that we are still no closer to answering.
Source: Popular Mechanics | Comments (9)
Similar stories based on this topic:
Tags: Giant Squid