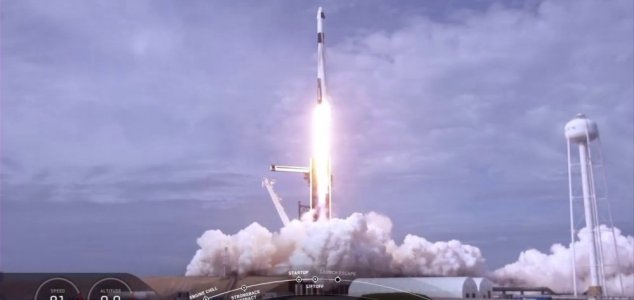 The Falcon 9 launched on Sunday.

Image Credit: YouTube / NASA Video
The firm deliberately destroyed the rocket as part of its preparations for sending astronauts up to the ISS.
When you are strapped to your seat inside a capsule that is itself mounted on the top of a rocket filled with almost 500 tons of highly explosive fuel, you are going to want at least some assurance that if things go catastrophically wrong, you and your crewmates won't end up being incinerated.
To this end, SpaceX yesterday tested the in-flight abort mechanism designed to separate the Crew Dragon capsule from the rocket in the unlikely event of a major failure.
The Falcon 9 rocket, which launched from the Complex 39A launch site at Kennedy Space Center in Florida, was carrying an empty Crew Dragon capsule when it exploded (what SpaceX calls a "rapid, unscheduled disassembly") in mid-air to simulate a real-world launch failure.
Fortunately the abort system, which detached the capsule from the rocket so that it wouldn't be destroyed in the explosion, worked without a hitch.
The newly separated capsule's descent was then slowed by parachute before it touched down in the ocean where a recovery team was waiting on a nearby boat.
The successful test paves the way for an actual manned mission up to the space station.
SpaceX has described the Crew Dragon as "one of the safest human spaceflight systems ever built."
Source: Independent | Comments (3)
Similar stories based on this topic:
Tags: SpaceX, Falcon 9