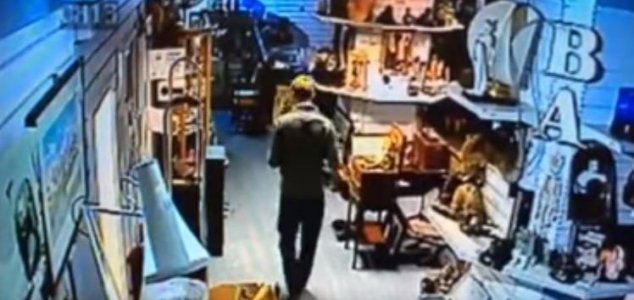 The store has been plagued by paranormal phenomena.

Image Credit: YouTube / barnsley antiques centre
A number of strange occurrences in an allegedly haunted antiques shop have been caught on CCTV camera.
Formerly a 19th-Century funeral parlour, Barnsley Antiques Center in South Yorkshire, England has often been dubbed 'Britain's most haunted shop' due to its eerie atmosphere and reputation as a hotbed of paranormal activity.
"The number of weird incidents that have happened here over the years is absolutely bizarre," said owner Daniel Parker who opened the store in 2014. "I'm naturally skeptical about paranormal activity and all that but seeing the things I've seen has forced me to think twice."
"I'll just be stood at the till and things will start dropping off the shelves, which would be fine if it happened a few times but it's all the time. People who know about this kind of thing think there are ghosts, spirits and all sorts in the shop - it's all very strange."
Sure enough, the
store's official YouTube channel
contains dozens of CCTV clips showing items mysteriously falling off shelves seemingly without intervention.
One of the earliest incidents involved a glass cabinet literally exploding for no apparent reason.
"The [electrician] rang me up and said there was smashed glass all over the floor," said Parker. "I couldn't explain how it had got there so I went in and had a look at the CCTV, that's when I saw the cabinet explode."
"It's the strangest thing I have ever seen, what could possibly have happened ?"
Source: AOL News | Comments (27)
Similar stories based on this topic:
Tags: Ghost, Haunting, Antiques