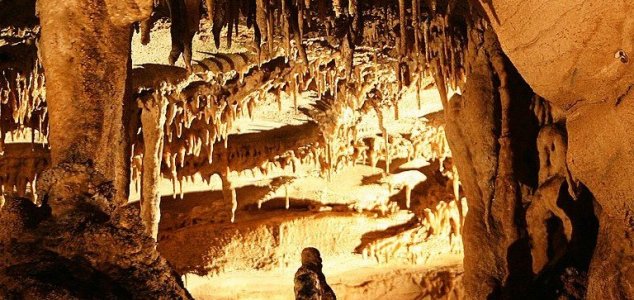 Mammoth Cave National Park is a popular visitor attraction.

Image Credit: National Park Service
The well-preserved fossil remains of a 330 million-year-old shark have been discovered in a cave in Kentucky.
Given that sharks continuously lose and replace their teeth throughout their lives, shark teeth are among the most commonly discovered prehistoric fossils in the world.
The rest of a shark's body, by contrast, is a very rare find because cartilage breaks down easily and hardly ever survives fossilization, making such discoveries few and far between.
When ecologist Rick Olson and paleontologist Rick Toomey stumbled upon a large, fossilized shark head in Mammoth Cave National Park in Kentucky back in November therefore, it quickly became apparent that they had discovered something very significant indeed.
According to palaeontoloist John-Paul Hodnett, the species -
Saivodus striatus
- dates back around 330 million years to the Late Mississippian period and was around the size of a great white shark.
"Most significantly, the majority of the shark fossils we discovered come from a layer of rock that extends from Missouri to Virginia, but never documented the presence of sharks, until now," said Hodnett. "It's like finding a missing puzzle piece to a very big picture."
The same cave is also thought to be home to the fossil remains of up to 100 other sharks.
Source: CNET.com | Comments (2)
Similar stories based on this topic:
Tags: Shark, Fossil