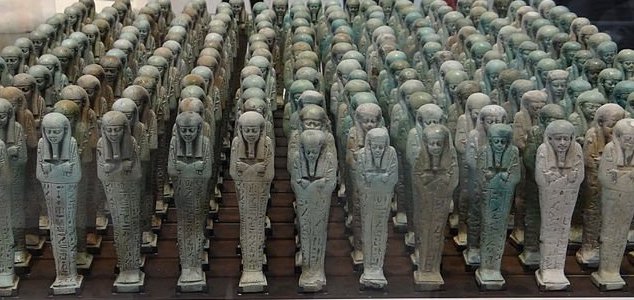 Funerary servant shabti figurines. (file photo)

Image Credit: CC BY-SA 3.0 Serge Ottaviani
A huge burial ground filled with mummies and shabti figurines has been discovered at a site south of Cairo.
The remarkable find, which includes 20 limestone sarcophagi and up to 700 amulets made of gold and precious gems, was announced by Egypt's Ministry of Antiquities on Thursday.
Excavations at the site are still ongoing and while archaeologists are unsure exactly how many mummies are there, it is expected that the tombs will contain a substantial number of them.
The high priests found buried so far date back to Egypt's 'Late Period' (664 BC to 332 BC).
This era of Egyptian history was marked by foreign invasions which left Egypt struggling to secure its own independence. The period ended when Alexander the Great's armies entered the country.
Among the artefacts discovered at the site were as many as 10,000 shabti figurines. Created from a type of glazed ceramic known as faience, these figurines were an important part of Egyptian burial practices at that time as it was believed that they would serve the deceased in the afterlife.
"Excavations are still running," said Mostafa Waziri, general secretary of Egypt's Supreme Council of Antiquities. "We expect to find more and more and more [discoveries] in this area."
Source: Live Science | Comments (4)
Similar stories based on this topic:
Tags: Egypt