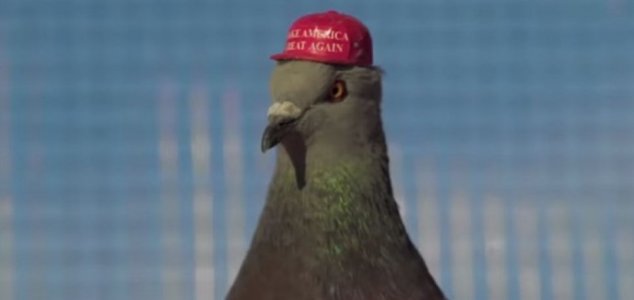 Even pigeons are getting involved in politics.

Image Credit: P.U.T.I.N
Eyebrows were raised in Las Vegas this week thanks to reports of pigeons wearing politically motivated headwear.
Back in December it was reported that an anonymous individual had been affixing tiny cowboy hats to pigeons in Las Vegas - a stunt that was later copied the following month when pigeons wearing tiny sombreros started to show up in the streets of Reno, Nevada.
Now it seems that an anonymous group known as Pigeons United To Interfere Now (PUTIN) has released a number of pigeons donning either Donald Trump wigs or red MAGA hats.
Unlike with the cowboy hats and sombreros however, this latest stunt appears to be entirely political with the group releasing the pigeons as a show of support for Trump who is currently in town.
According to PUTIN's founder 'Coo Hand Luke', the pigeons themselves are all rescue birds.
Exactly what impact the unusual headwear will have on their wellbeing however remains unclear.
Source: UPI.com | Comments (19)
Tags: Pigeons