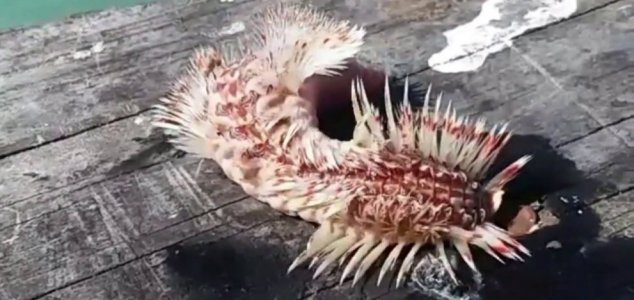 Not your average catch.

Image Credit: Alyssa Ramirez
This unusual looking creature was recently caught in the waters off Port Isabel to the south of Corpus Christi.
Resembling a colorful cross between a slug and a hedgehog, this bizarre aquatic denizen ended up attracting a great deal of attention online after it was caught by visiting angler Alyssa Ramirez.
"When I didn't feel any bites I assumed the fish had taken my bait - squid - and I reeled in my line to rebait the hook," she said. "At first glance I thought I snagged some seaweed."
"Then I laughed because that was definitely not a fish, nor seaweed. It was like an oversized earthworm ready for combat."
Experts were quickly able to identify the creature as a bearded fireworm - a type of marine bristleworm that is typically found in the Atlantic Ocean and the Mediterranean Sea.
"It's very unusual for (fireworms to be) around here," said Dr. Paul Montagna. "I've never personally seen one in Texas waters before. You see them in coral reefs all the time, because they typically eat coral or small things that live on the corals."
In addition to its odd appearance, the bearded fireworm can also be quite dangerous because the long barbs on its back are extremely sharp and its sting can cause an intense burning sensation.
Suffice to say, this is one deep-sea critter that it's best to steer well clear of.
Source: Kistv.com | Comments (9)
Similar stories based on this topic:
Tags: Texas