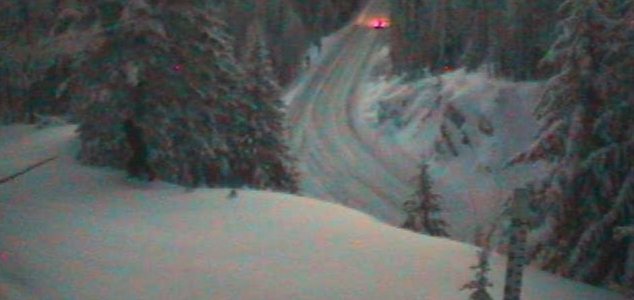 Bigfoot... or wood cutout ?

Image Credit: Twitter / WSDOT East
The Washington state Department of Transportation has revealed what the alleged 'Bigfoot' actually was.
When the image of a mysterious biped trudging through the snow was posted up on the department's official Twitter page back in January, it led to widespread speculation that the legendary Sasquatch might be roaming Washington's Kettle River Range.
"Sasquatch spotted!!!" the department wrote at the time. "I'm not superstitious... just a little stitious. Have you noticed something strange on our Sherman Pass/SR 20 webcam before ?"
Skeptics meanwhile argued that the figure, which is barely visible on the left-hand side of the image, could simply be a person walking along, a chance formation of shadow or a straight-up hoax.
Now over a month after the original posting, the department has come forward with a new Tweet declaring that the 'Bigfoot' was in fact a wooden cutout that someone had placed on the tree.
"We'd planned to reveal what was in front of Sherman Pass cam during a recent visit," the Tweet reads. "However, when crews arrived it was gone. Rumor has it someone placed a 3/4" wood cutout of Bigfoot on the tree. However, if you look now, the cutout is now gone."
Exactly who was responsible for placing the cutout in view of the webcam however remains unclear.
Source: Fox28spokane.com | Comments (61)
Similar stories based on this topic:
Tags: Bigfoot