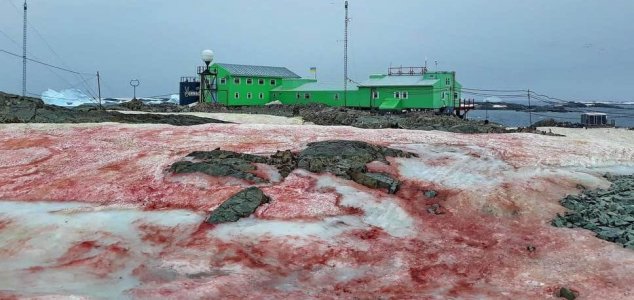 Do not eat the red snow.

Image Credit: Facebook / Ministry of Education and Science of Ukraine
Scientists working at a Ukranian research station have revealed that the nearby snow has turned an odd color.
A series of images released by Ukraine's Ministry of Education and Science earlier this week show a bizarre landscape of red-colored snow and ice surrounding the Antarctic Vernadsky Research Base.
While the phenomenon has left many social media users scratching their heads, the strange coloration does happen to have a conventional explanation.
It turns out that the culprit is a type of microscopic snow algae that becomes more common during the (relatively) warmer weather of the Antarctic summer (between October and February).
The algae has a red carotene layer that helps to protect it from the sun's ultraviolet radiation.
"Because of the red-crimson color, the snow reflects less sunlight and melts faster," the scientsts wrote. "As a consequence, it produces more and more bright algae."
The phenomenon has come to be known as 'raspberry snow'.
Source: Independent | Comments (3)
Similar stories based on this topic:
Tags: Antarctica, Snow