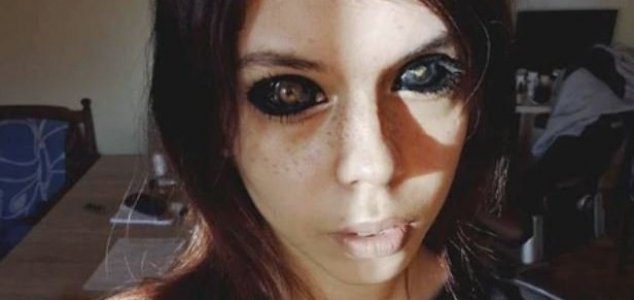 The striking look came at quite a cost.

Image Credit: Instagram / anoxi_cime
A 25-year-old Polish model lost most of her eyesight after having a tattoo artist dye the whites of her eyes black.
Aleksandra Sadowska had been hoping to imitate the look of rap artist Popek, who had also undergone the same transformation, by having her eyeballs tattooed with black ink.
After having gone through with the excruciating procedure however she started to experience severe pains and ended up going blind in one eye and partially blind in the other.
It soon became clear that the tattoo artist, who had initially dismissed her symptoms as 'normal', had managed to use the wrong type of ink, leaving Sadowska with permanent eye damage.
"I'm legally blind, that doesn't mean I can't see completely," she said.
"My right eye is quite blind. The left sees partially - has a defect of -10 diopters, cataracts, damaged cornea and nerve which causes narrowed field of view."
The tattoo artist, who is known as Piotr A, now faces up to three years in prison.
"There is clear evidence that the tattoo artist did not know how to perform such a delicate procedure," said Sadowska's lawyer. "And yet he decided to perform it which led to this tragedy."
Source: 7news.com.au | Comments (57)
Similar stories based on this topic:
Tags: Eyes, Tattoo