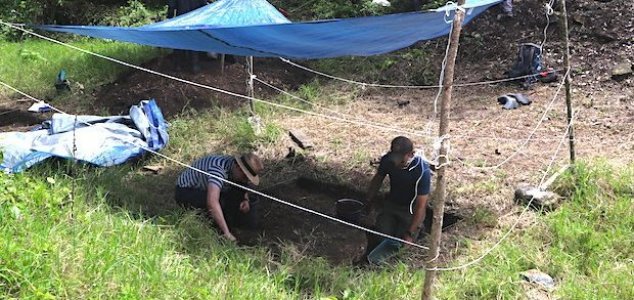 Archaeologists work to excavate the ruins.

Image Credit: Charles Golden
Scientists have discovered the capital of an ancient Maya kingdom in the back yard of a cattle rancher.
Located in what is now the state of Chiapas in southeastern Mexico, the remarkable find was made by associate professor of anthropology Charles Golden and colleagues who have been excavating the site - which sits on an active cattle ranch - since June 2018.
The work has been particularly taxing, not least because the archaeologists have had to prevent the livestock from falling into holes, trampling on delicate artefacts or leaving dung on the excavations.
The researchers now believe that the site was once the capital of the Sak Tz'i' kingdom which was settled in 750 BCE and may have been occupied for over 1,000 years.
Clues to the existence of this kingdom had been found in the form of inscriptions at other sites as far back as 1994, however it has taken until now to actually discover its whereabouts.
So far the excavation has yielded a treasure trove of artefacts and structural ruins including evidence of pyramids, a palace and even a ball court. Monuments inscribed with references to rituals, battles and a mythical water serpent have also been found at the site.
The team hopes to return again in the summer in an effort to further unravel the kingdom's secrets.
Source: Phys.org | Comments (5)
Similar stories based on this topic:
Tags: Maya