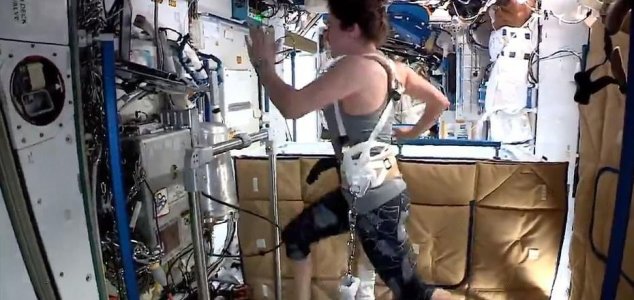 Bungee straps are used to run on a treadmill.

Image Credit: Twitter / Jessica Meir / NASA
The crew of the orbital outpost have created a video explaining how they manage to stay fit in space.
Being stuck inside all day isn't exactly conducive to general fitness, which is why there has been a run on exercise equipment such as treadmills, exercise bikes and weight sets in recent weeks.
But if you think being unable to go to the gym is bad, spare a thought for the astronauts aboard the International Space Station who are cooped up for months at a time high up in Earth's orbit.
On top of this, the weightless environment can quickly take its toll on the human body because when you aren't using your muscles, they quickly weaken and deteriorate.
So how do the astronauts manage to stay in shape ?
To answer this question, NASA's Jessica Meir recently filmed a short video explaining what she and her fellow crew members do to help keep their bodies active while in zero-gravity.
The ISS is actually surprisingly well stocked with specially designed exercise machines including an exercise bike, a treadmill and a complex vacuum system that simulates weightlifting.
Because everything is weightless, to use the machines the astronauts need to strap themselves in with bungie cords and other harnesses.
"Studies have shown that exercise is vital only to your physical health but also to your mental well-being," said Meir. "You may need to get a little bit creative to get that heart rate elevated while at home without heading to the gym, but we are confident you can come up with something."
Source: MSN.com | Comments (0)
Similar stories based on this topic:
Tags: Astronaut, ISS