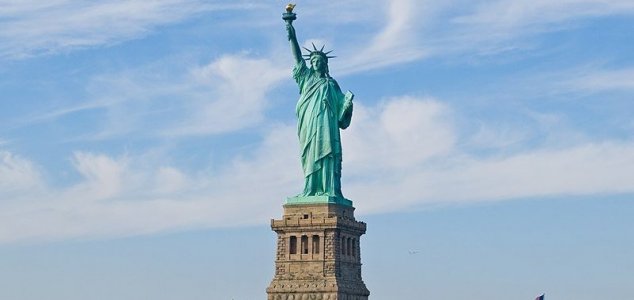 Millions visit the statue every year.

Image Credit: CC BY 2.0 William Warby
The original design for the iconic statue featured a much larger and more robust torch-bearing arm.
Completed in 1886, the Statue of Liberty remains one of the most iconic structures of the New York City skyline and stands to this day as a universal symbol of freedom.
Originally constructed to commemorate the friendship between France and the United States, the statue was designed by French sculptor Frederic Auguste Bartholdi while its metal framework was developed by Gustave Eiffel - the same architect responsible for France's Eiffel Tower.
Now a chance discovery of previously unseen Statue of Liberty blueprints has lifted the lid on one of the statue's most iconic features - its raised torch-bearing arm.
The blueprints were obtained by California map dealer Barry Lawrence Ruderman who had purchased a folder containing a number of Eiffel's historic papers at an auction in Paris.
Incredibly, the blueprints have revealed new insight into the design process - in particular showing that Eiffel had originally envisaged the torch-bearing arm to be much more robust and sturdy.
Revisions to this design drawn in red ink show that someone - possibly Bartholdi - had gone back over the blueprints and made the arm more slender and fragile like it is on the actual statue.
"When we first realized what we had, we were awestruck," Ruderman told
Live Science
.
"The Statue of Liberty is quite possibly the most famous modern man-made object on the planet, and we were holding the engineering work that made its public display possible."
Source: Live Science | Comments (0)
Tags: Statue of Liberty