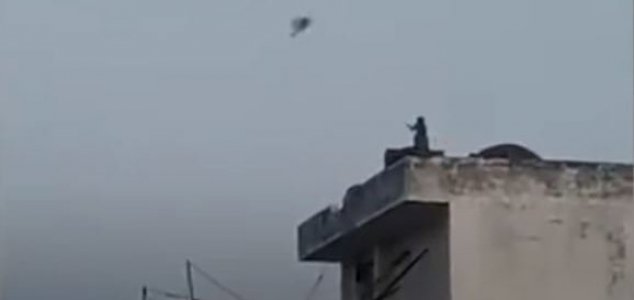 Monkeys can fly kites now, apparently.

Image Credit: Twitter / @susantananda3
Peculiar footage recently recorded in India appears to show a monkey sitting on a rooftop flying a kite.
With city streets across India being almost deserted due to the coronavirus lockdown, some of the local wildlife - and in particular the local monkey population - has been taking center stage.
One adventurous primate was even captured on camera engaging in a spot of kite-flying.
The video, which was posted up on Twitter by Indian Forest Services officer Susanta Nanda, shows the monkey tugging at the strings of the kite as it soars high above the rooftops.
After a few seconds, as the kite loses altitude, the monkey reaches up and catches it.
"Evolution happening fast due to lockdown," Nanda wrote.
"Monkey flying a kite. Yes it's a monkey for sure."
The footage quickly went viral on social media, generating tens of thousands of views and thousands of comments across multiple repostings.
While it's likely that the monkey had simply grabbed a loose string attached to the kite, the fact that it seemed to know how to fly it for a brief period is still quite impressive.
Source: NDTV.com | Comments (6)
Similar stories based on this topic:
Tags: Monkey, Kite