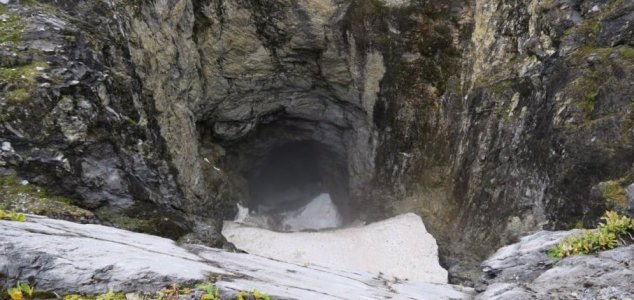 This is one large hole in the ground.

Image Credit: Catherine Hickson / Tuya Terra Geo Corp.
A gargantuan cave in the Canadian wilderness was only recently discovered because it had been filled with ice.
Situated in Wells Gray Provincial Park, British Columbia, the huge cave, which has been nicknamed 'Sarlacc pit' after the creature in
Return of the Jedi
, is one of the largest stripe karst caves on Earth.
The cave measures approximately 100 by 60 meters and extends underground for at least 135 meters with the first 80 meters or so being a sheer vertical drop down into the darkness.
Water thunders down into the entrance and is thought to emerge as a stream around 2.1km away.
Now a new study published this week has revealed that the cave had managed to remain totally hidden from mankind for centuries because it had been filled with ice and covered in snow.
It is only because rising global temperatures had melted the ice that its entrance was finally revealed.
"This is an amazing, amazing, earth-formed natural feature ... but, yes, [found] as a result of climate change, which is unfortunate," said study co-author Catherine Hickson.
The ice 'plug' filling up the cave was likely still present even as recently as ten years ago.
"The amount of snow and ice that was in there, it's hard to melt that much material, especially at a high elevation such as this," said glacial geologist Brent Ward who was not involved in the study.
"Even if the glacier had retreated that far without anthropogenic climate change... that snow bank and ice would not have melted without the warmer temperatures we're seeing in the summer."
Source: CBC.ca | Comments (7)
Similar stories based on this topic:
Tags: Cave, Canada