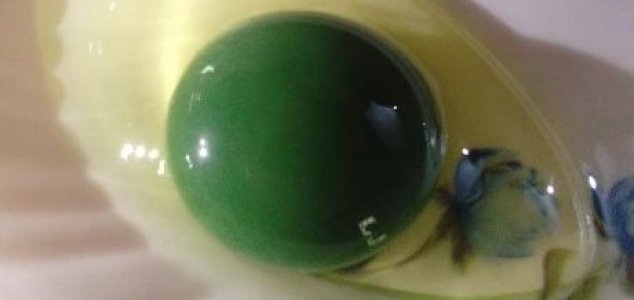 Would you cook and eat this ?

Image Credit: AK Shihabudheen / Facebook
University researchers are working to explain why hens' eggs on one farm in India are such a strange color.
It might sound like the title of a Dr. Seuss children's book, but these 'green eggs' are actually the real deal - at least, that is, according to AK Shihabudheen - a farmer from Malappuram, India who took to social media when his produce started exhibiting a rather peculiar greenish tinge.
After posting up a few images and video clips on Facebook, he was soon inundated with messages, emails and phone calls from journalists, friends and even veterinary experts who were particularly interested in learning the story behind the mysterious egg yolks.
As it turned out however, Shihabudheen had no idea why the eggs were green either.
"It was nine months ago that we first got such an egg with a green yolk from a hen in our small poultry farm set up along the house," he said. "We were astonished at first, and did not use the egg to consume. All the eggs which the hen laid, were this kind and so we started to incubate the eggs."
"Out of the six chicks which hatched from these eggs, a few have started to lay eggs and those yolks are also green in color."
Eventually, his family started to eat the strange eggs, however it seems that they have not caused any unwanted side effects and reportedly taste just like normal eggs.
Experts at the Kerala Veterinary and Animal Sciences University have since collected samples and are conducting tests to get to the bottom of the mystery.
They suspect that the peculiar color has something to do with the feed given to the birds, however they won't know for certain exactly what's causing it until they have the results.
Source: The News Minute | Comments (26)
Similar stories based on this topic:
Tags: Eggs