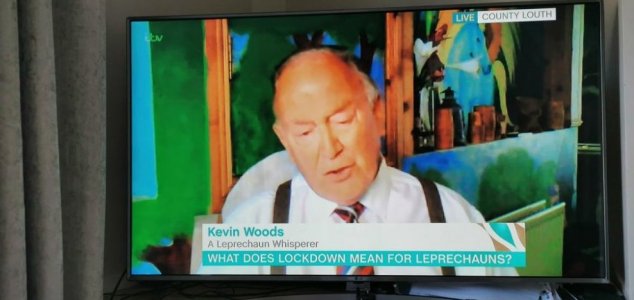 Woods was interviewed during the show.

Image Credit: Twitter / @amy_13125
A man who claims to be Ireland's last living leprechaun whisperer has spoken out about the impact of the virus.
You may be forgiven for thinking that leprechauns - the bearded, green-suited little people of Irish folklore - are little more than the product of stories and folk tales.
According to Kevin Woods of Carlingford, Co Louth, however, these mischievous fairy-folk are not only real, but are in communication with him, sharing their thoughts about current events.
For many years, Woods has acted as 'custodian' of the leprechauns and has previously successfully lobbied for them to be granted a special protective status.
He also claims to have a special 'power' that enables him to see and talk to them.
Speaking during a recent appearance on
This morning
in the UK, he told hosts Ruth Langford and Eamon Holmes that while the leprechauns have been doing fine, their numbers are dwindling.
"There were millions of them here in Ireland and they all died apart from 236 of them," he said.
"I'm really the custodian of them and their lives and I've been doing that since I got them a protected species. Leprechauns are spirits, they manifest themselves to me as leprechauns. I visit them each day, I haven't broken the restrictions."
Woods runs a tour business named
Last Leprechauns Of Ireland
, however while the coronavirus doesn't seem to have impacted the little folk themselves, his profits have certainly taken a hit.
"It's not really business to me, I have enough access to the gold," he said.
"I don't need the business. I do it to tell people the story is true."
Source: Irish Post | Comments (12)
Similar stories based on this topic:
Tags: Ireland