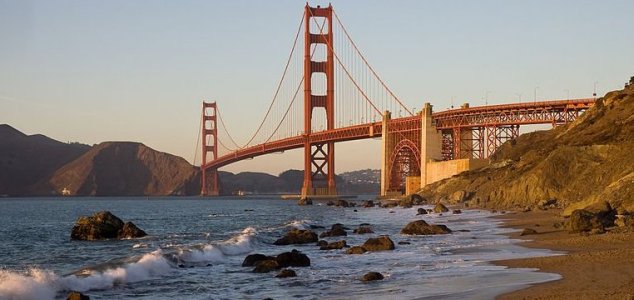 The sound can be heard from miles away.

Image Credit: CC BY 3.0 Christian Mehlfuhrer
A recent bicycle-path railing redesign on the iconic bridge has resulted in a rather unwelcome noise.
Considered to be one of the wonders of the modern world, the instantly recognizable 1.7-mile-long Golden Gate Bridge links San Francisco with Marin County, California.
Recently however, locals have started to report a strange high-pitched sound emanating from the bridge, leading to noise complaints and leaving officials scrambling to offer an explanation.
Described as being almost like 'singing', the anomalous din has since been traced back to the wind blowing through the recently redesigned bicycle-path railings that span the length of the bridge.
"The new musical tones coming from the bridge are a known and inevitable phenomenon that stem from our wind retrofit project during very high winds," said Golden Gate Bridge, Highway and Transportation District spokesperson Paolo Cosulich-Schwartz.
"We knew going into the handrail replacement that the bridge would sing during exceptionally high winds from the west, as we saw yesterday."
"We are pleased to see the new railing is allowing wind to flow more smoothly across the bridge."
The change was reportedly "made to make the bridge more aerodynamic under high wind conditions and is necessary to ensure the safety and structural integrity of the bridge for generations to come."
Not everyone is too enthusiastic about the redesign however, especially given how loud the sound is and how far away it is possible to hear it (see video below).
"Because it spans a very windy gap across the Bay, the Golden Gate Bridge is now effectively a giant orange wheezing kazoo," wrote local NPR radio station KQED.
Whether authorities will make an effort to dampen the sound in the future remains unclear.
Source: Guardian | Comments (3)
Similar stories based on this topic:
Tags: Sounds