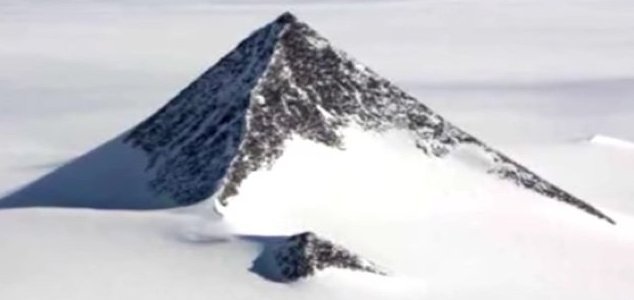 Are the Antarctic pyramids artificial structures or natural formations ?

Image Credit: Google Earth
For years, some have speculated that pyramid-shaped formations in Antarctica could be man-made structures.
Pyramids continue to crop up all across the world - it's a basic shape that has been constructed time and again by civilizations and cultures for millennia, many of which having no contact with one another and in some cases with vast oceans and thousands of years between them.
It is perhaps no surprise, therefore, that when images of large pyramid-shaped formations in Antarctica started doing the rounds online, many people jumped on the idea that they could be artificial structures perhaps left behind by some ancient civilization that has long since gone from the world.
The southern continent has not always been covered in snow and ice - in the distant past it was a much more temperate region with lush forests, swamps and a variety of wildlife.
Some speculate that these 'pyramids' could be evidence of Atlantis or of extraterrestrial visitors, while others favor more conventional explanations.
But could there really be ancient structures protruding from the frozen wastes ?
While there is no denying that some of the rock formations in Antarctica certainly do appear pyramid shaped, the most likely explanation is that these are the peaks of large mountains buried in the ice.
Such features are known scientifically as "nunataks."
Whatever the case however, it is unlikely that the stories and speculation surrounding these ancient pyramid-shaped peaks are going to disappear anytime soon.
You can check out a clip about Antarctic pyramids from the show
Ancient Aliens
below.
Source: Ancient Origins | Comments (162)
Similar stories based on this topic:
Tags: Pyramid, Antarctica