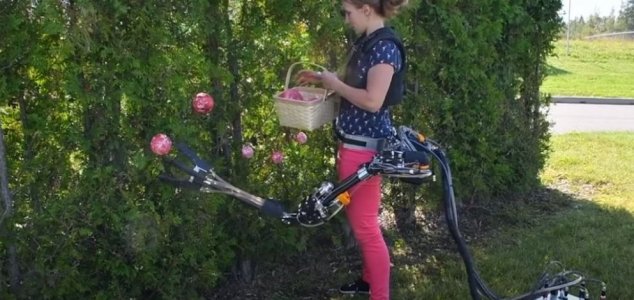 The arm can help you pick fruit, among other things.

Image Credit: YouTube / Createk Engineering Lab
Researchers have come up with a remote-controlled robotic arm that can be worn around your waist.
It turns out that Spider-Man villain Dr Otto Octavius is not the only one with wearable robotic arms - as evidenced by this novel new robotic limb developed by a team of researchers from Canada's Universite de Sherbrooke as part of a collaboration with Exonetik.
While the hydraulic arm, which features three degrees of freedom, is certainly not as elegant as its comic-book counterparts, it has the potential to become something very significant in the future.
Tethered to an external power system, the arm is controlled by a second person standing nearby.
Despite these limitations however, it is quite capable of performing a number of useful tasks from picking fruit to painting a wall and can also pick up and hand tools and other objects to the wearer.
It is even capable of smashing down walls using a mace-like appendage.
With the goal of "mimicking the performance of a human arm in a multitude of industrial and domestic applications", the arm certainly has a few rough edges (such as the wearer being shaken around quite a bit by its movement) but the future potential is definitely there.
It will be interesting to see how this technology develops over the next few years.
You can check out a video of the arm in action below.
Source: Tech Spot | Comments (10)
Similar stories based on this topic:
Tags: Robot