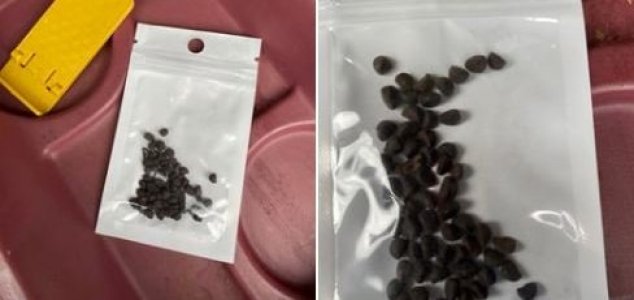 What type of seeds are these ?

Image Credit: Twitter / @VaAgriculture
Authorities in three states are investigating why people have been receiving mystery seed packets from China.
According to reports, the seeds - which arrive in small packages with no indication of why they were sent or what type of seeds they contain - have been showing up in mailboxes in Washington, Utah and Virginia with the only clue to their origins being Chinese writing on the outside.
Officials have since warned people not to open the packets in case they are dangerous.
"Today we received reports of people receiving seeds in the mail from China that they did not order," the Washington State Department of Agriculture said on Friday.
"The seeds are sent in packages usually stating that the contents are jewelry. Unsolicited seeds could be invasive, introduce diseases to local plants, or be harmful to livestock."
Anyone who receives the seeds should report them to the relevant authorities.
"Invasive species wreak havoc on the environment, displace or destroy native plants and insects and severely damage crops," said the Virginia Department of Agriculture and Consumer Services.
"Taking steps to prevent their introduction is the most effective method of reducing both the risk of invasive species infestations and the cost to control and mitigate those infestations."
Source: The News Tribune | Comments (80)
Tags: Seeds