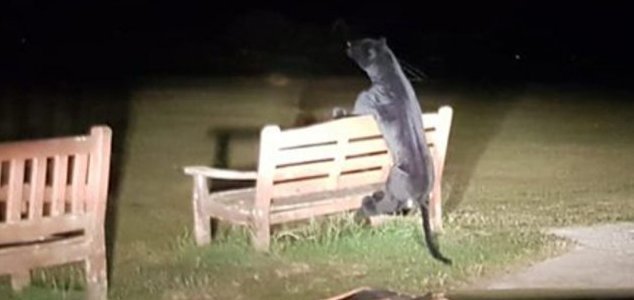 The 'big cat' was found holding onto a park bench.

Image Credit: Twitter / Horsham Police
Police in Sussex recently attended the scene of a 'big cat' sighting only to find something a lot more innocuous.
While reports of exotic wild animals on the loose in the UK have been around for decades, this most recent sighting - which was described as an "apex predator" - turned out to be anything but.
When officers attended the scene at a park in Steyning, West Sussex, they expected to find a large wild animal that had escaped from a zoo or private collector.
What they found instead was a large stuffed toy gripping the back of a park bench.
"Reports of a large apex predator in the Steyning area turned out to be true," Horsham Police wrote on Twitter. "It may be a stuffed toy, but the attending officers didn't necessarily know that at first."
The incident echoes a similar scenario that occurred last year when the RSPCA was called out to investigate reports of a tiger being kept in a small cage in Devon.
When officers arrived at the scene, they found that it was nothing but a stuffed toy.
"He's called Tiddles the tiger and shares his home with two male neutered rabbits called Horace and Boris, who have a fantastic home filled with all kinds of enrichment and entertainment to keep them happy and healthy," RSPCA inspector Marije Zwager said at the time.
Source: Sky News | Comments (3)
Similar stories based on this topic:
Tags: Big Cat