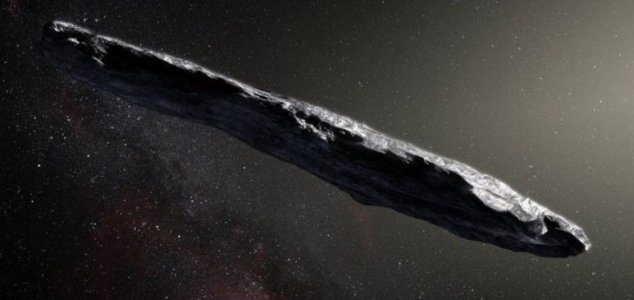 Is 'Oumuamua sending out any signals ?

Image Credit: ESO / M. Kornmesser
SETI has been attempting to determine if the first known interstellar visitor is under intelligent alien control.
The 400-meter-long object, which flew past our planet back in October 2017, became the focus of much debate and intrigue after it was found to have come from a distant solar system.
Since then, SETI (Search for Extraterrestrial Intelligence) has been keen to turn its attentions towards the object in the hope of finding evidence of intelligent alien life.
Back in December of last year, it used the Allen Telescope Array - a system of 42 radio dishes in California - to listen out for any extraterrestrial signals that may be coming from 'Oumuamua.
Sadly though, according to a newly published report, the search failed to find anything.
"We were looking for a signal that would prove that this object incorporates some technology - that it was of artificial origin," said lead author Gary Harp.
"We didn't find any such emissions, despite a quite sensitive search. While our observations don't conclusively rule out a non-natural origin for 'Oumuamua, they constitute important data in accessing its likely makeup."
At around the same time, the $100 million Breakthrough Listen project also attempted to find evidence of alien signals from 'Oumuamua using the Robert C. Byrd Green Bank Telescope in West Virginia.
Unfortunately it, too, failed to pick up any signs of extraterrestrial intelligence.
As things stand, it is looking unlikely that the object is anything more than a naturally occurring phenomenon.
Source: Space.com | Comments (21)
Similar stories based on this topic:
Tags: Oumuamua, Asteroid