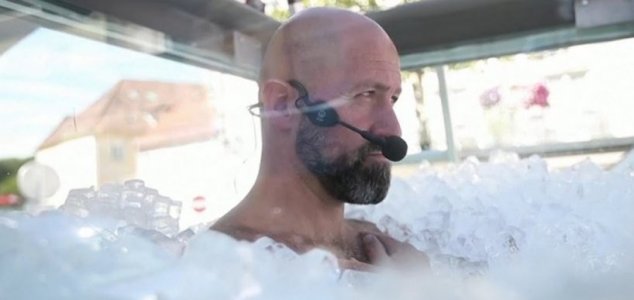 Best not to try this at home...

Image Credit: YouTube / NTV Houston
Josef Koeberl broke his own world record after spending an insane amount of time buried in ice cubes.
For most of us, the idea of spending even a minute in an ice bath is enough to send shivers up the spine, but for Austrian Josef Koeberl, being buried in ice is all in a day's work.
The insane stunt saw a small crowd gather in the town square of Melk in Lower Austria as Koeberl was helped into a large tank in an effort to beat his previous world record of two hours.
Volunteers emptied bags of ice cubes into the tank until Koeberl was buried up to his neck.
"I'm fighting the pain by visualizing and drawing on positive emotions so I can dampen this wave of pain," he told reporters during the stunt. "That way I can endure."
He ultimately managed to remain in the tank for 2 hours, 30 minutes and 57 seconds.
He now plans to beat his own record yet again in Los Angeles next year.
Whether he will be able to endure such an ordeal for even longer however remains to be seen.
Source: The Guardian | Comments (7)
Tags: Josef Koeberl