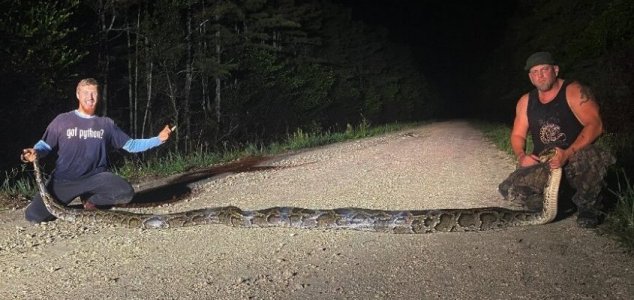 That is one huge snake.

Image Credit: Facebook / MyFWC Florida Fish and Wildlife
This gargantuan snake is one of many to have been caught by bounty hunters in the Florida Everglades.
Burmese pythons have long proven to be a major nuisance in the region and environmentalists have been working for years to curb their population to safeguard various other native species.
The snakes were first introduced in the Everglades in the 1980s and have since gained a significant foothold, resulting in a major decline in raccoons, opossums and bobcats as well as the near total disappearance of some rabbit and fox species.
This particular specimen, which was caught by hunters Ryan Ausburn and Kevin Pavlidis, has been officially confirmed by the Florida Fish and Wildlife Conservation Commission to be a new record.
It measures a whopping 18 feet, 8.8 inches (5.71 meters) in length.
Authorities in the region pay hunters a bounty to capture the snakes.
The previous record holder, which measured 18 feet and 7.6 inches, was caught in 2013.
Source: Phys.org | Comments (8)
Similar stories based on this topic:
Tags: Python, Snake