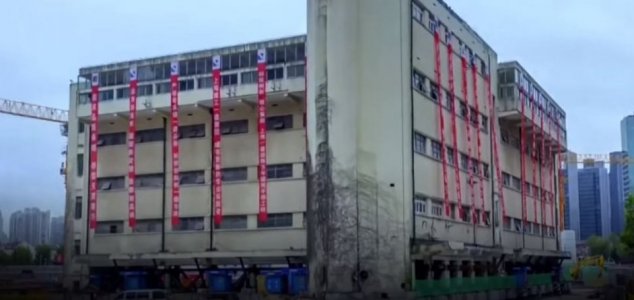 The process took 18 days to complete.

Image Credit: YouTube / South China Morning Post / CCTV
A remarkable engineering project in China has seen an entire building being moved using special robotic 'legs'.
What happens when you want to build a major new construction project in the middle of a crowded Chinese city but there happens to be a historic 85-year-old school building in the way ?
You move the entire building to a new location, of course.
Workers in Shanghai recently achieved the impressive feat of moving the old Lagena Primary School a distance of 62 meters without having to demolish it or move it piece by piece.
To achieve this, they attached 198 robotic legs to the underside of the structure and slowly moved it over the course of 18 days to its new home.
The feat was made all the more remarkable by the awkward shape of the building.
The original location will now be used to build a new commercial center and the school itself will be renovated and turned into a new cultural education and heritage center.
You can check out a video of the operation below.
Source: Oddity Central | Comments (3)
Similar stories based on this topic:
Tags: Robot, Feet