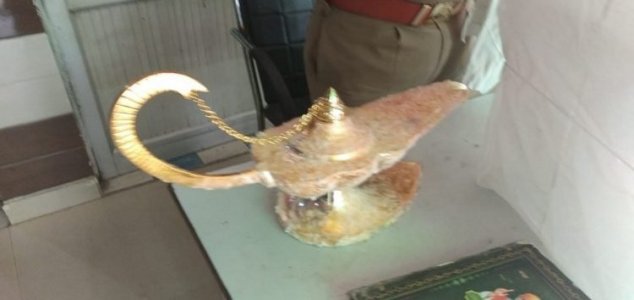 The lamp looked a little worse for wear.

Image Credit: Facebook / Uttar Pradesh Police
A physician in India was conned into paying a huge sum for a magic lamp that he was told could grant wishes.
Pretty much everyone will have heard the story of Aladdin and the magic lamp at some point in their lives, but in some parts of the world, the idea of a wish-granting genie is more than just a story.
Dr Laeek Khan, who hails from Meerut city in India's Uttar Pradesh region, first became aware of the 'magic' lamp while he was visiting a patient's home to dress her wounds after a surgical procedure.
According to reports, he was introduced to two self-proclaimed tantriks named Islamuddin and Anees who claimed that the lamp could grant wishes and bring him 'wealth, health and good fortune'.
Although they initially demanded over $200,000 for the lamp, they ultimately agreed to a down payment of $41,584 - leaving Khan with what amounted to an expensive - and useless - trinket.
He later explained that the two conmen had been incredibly convincing and had even summoned the 'genie' in front of him to provide proof of the lamp's powers.
Only later did he realize that this magical being had in fact been Islamuddin in disguise.
When the pair wouldn't even allow him to take the lamp home with him, he knew he'd been conned.
Fortunately he was able to alert the police and have the two men arrested.
The woman who Dr Khan had originally been attending, it turned out, was Islamuddin's wife.
The trio have been connected to several other similar cons.
Source: BBC News | Comments (9)
Tags: Lamp