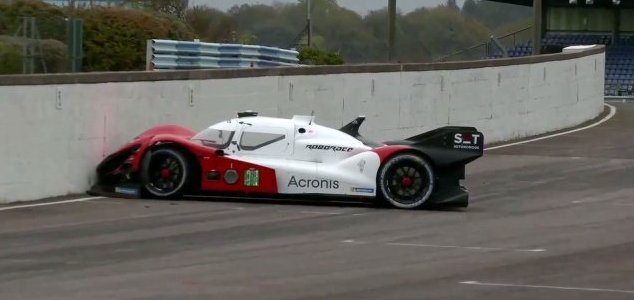 Not the best of starts...

Image Credit: Twitch / Roborace
An autonomous car taking part in the recent Roborace event managed to crash before crossing the start line.
In a mishap that can only be described as the very epitome of the term 'epic fail', the Swiss team's vehicle had made its way on to the racetrack as part of this year's Roborace autonomous car event when it took an immediate hard-right turn and plowed straight into the wall at the side of the track before it had even managed to cross the start line.
The embarrassing blunder, which would seem to emphasize the fact that self-driving cars aren't quite ready for mainstream use, occurred during a three-lap time-trial involving six teams - each using the same type of autonomous vehicle but with custom software developed by the teams for the event.
One perk of the race is that the cars drive through a type of mixed-reality course with various virtual obstacles and collectibles appearing on the track. Teams can choose to drive through the virtual obstacles if they choose to do so however this does come with a time penalty.
It remains unclear exactly what caused the car to veer straight into the wall, however it sadly sustained significant damage in the crash and is unlikely to be racing again for a while.
Source: Car and Driver | Comments (2)
Similar stories based on this topic:
Tags: Self-Driving