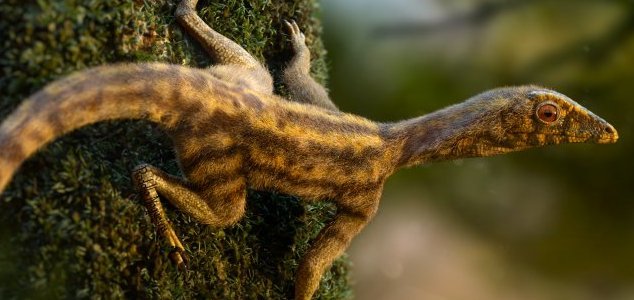 Was this the ancestor of the pterosaurs ?

Image Credit: Rodolfo Nogueira / CTyS-UNLaM
Palaeontologists have shed new light on the evolutionary history of these abundant prehistoric flying reptiles.
At a time when dinosaurs of all shapes and sizes roamed the land, the skies were dominated by a group of flying reptiles known as the pterosaurs.
While not a direct ancestor of today's birds, these prehistoric flyers were everywhere and ranged from a few inches in size to hulking great beasts with wingspans exceeding 40ft across.
Despite how common pterosaurs were, precious little evidence of their evolutionary history has ever been found in the fossil record, however palaeontologists have now determined that a reptile species known as lagerpetid, which was previously thought to be more closely related to dinosaurs, may in fact be a close relative to the pterosaurs and could help to offer a better understanding of their evolution.
The study, which was conducted by an international team of researchers, involved detailed comparisons of multiple fossil specimens.
"The origin of the flying reptiles was one of the great enigmas of paleontology and evolutionary biology as a whole," said Dr Federico Agnolin of the Vertebrate Paleontology Section of the Argentine Museum of Natural Sciences (MACN).
"Now, we know that there was an intermediate step in the lagerpetids, terrestrial reptiles that look similar to a lizard, which could not fly, but that, in this study, we could already observe some evolutionary steps in their brain and inner ears that were adaptations that later would have allowed pterosaurs to develop flight."
Source: Agencia CTyS | Comments (1)
Similar stories based on this topic:
Tags: Pterosaur