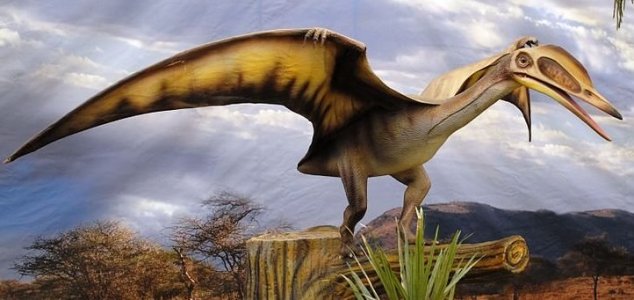 Pterosaurs were masters of the prehistoric skies.

Image Credit: CC BY-SA 3.0 HombreDHojalata
Scientists have unearthed the fossil remains of three new species of prehistoric winged reptile in Morocco.
Discovered by palaeontologist Prof David Martill from the University of Portsmouth and colleagues, the fossil fragments included pieces of jaw bone and teeth dating back 100 million years.
The reptiles, which had wingspans of up to four meters, were among countless other pterosaur species that ruled the skies at a time when the dinosaurs dominated the land.
"The new finds show that African pterosaurs were quite similar to those found on other continents," said a spokeswoman for the university. "These flying predators soared above a world dominated by predators, including crocodile-like hunters and carnivorous dinosaurs."
"Interestingly, herbivores such as sauropods and ornithischian dinosaurs are rare."
The researchers believe that the three newly discovered species would have preyed on fish.
"These aerial fishers snatched up their prey while on the wing, using a murderous-looking set of large spike-like teeth that formed a highly effective tooth grab," the spokeswoman said.
"Large pterosaurs such as these would have been able to forage over vast distances, similar to present-day birds such as condors and albatrosses."
Source: The Guardian | Comments (1)
Similar stories based on this topic:
Tags: Pterosaur