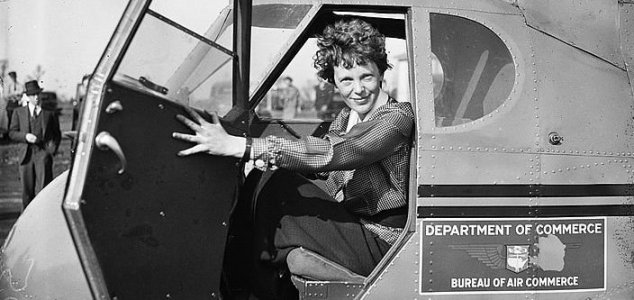 Did Earhart land her plane on Nikumaroro ?

Image Credit: Harris and Ewing
A piece of metal thought to have come from the famed aviator's plane is set to undergo a battery of tests.
More than 82 years after Amelia Earhart disappeared over the Pacific Ocean during an attempt to circumnavigate the globe in her Lockheed Model 10 Electra, the question of what happened to her continues to remain one of the biggest unanswered mysteries of the modern age.
In recent years, clues have been found suggesting that Earhart's plane may have gone down somewhere in the remote Pacific atoll of Nikumaroro and that the aviator and her navigator Fred Noonan may have even survived for several days on a small island while awaiting rescue.
Although efforts to locate her plane's wreckage in the water off the island have so far come up empty, in 1991, Richard Gillespie of The International Group for Historic Aircraft Recovery did discover a mysterious metal plate there that looked like it could have come from an airplane.
While the plate didn't seem to be a component from Earhart's Electra, Gillespie later determined that it might have in fact been a patch that had been placed over one of the aircraft's windows in May 1937.
Fascinated by this idea, nuclear scientist Daniel Beck has now volunteered to have the metal analyzed by the Radiation Science and Engineering Center at Pennsylvania State University.
"Two processes will be used to probe the piece of fuselage," said Gillespie.
"One will be neutron radiography, whereby the wreckage is placed between a neutron beam and an imaging plate, creating a sort nuclear x-ray."
"All of its physical properties - the type of aluminum, the thickness of the sheet, the type and size of the one surviving rivet, are correct for Earhart's aircraft."
It is hoped that the tests will reveal tiny, previously imperceptible clues linking it to the famed aviator's Electra, such as trace amounts of paint or even a serial number.
If the test does find that the plate is from Earhart's plane, it could solve the mystery once and for all.
Source: Lad Bible | Comments (3)
Similar stories based on this topic:
Tags: Amelia Earhart