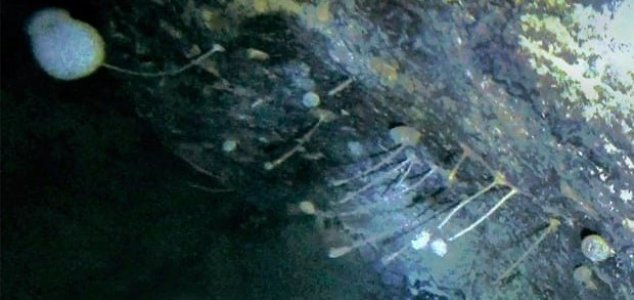 Could this be what life is like on Europa ?

Image Credit: Huw Griffiths / UKRI BAS
A recent ice-boring operation has revealed the discovery of organisms living deep beneath the ice shelf.
During a recent expedition, scientists with the British Antarctic Survey drilled 900 meters down through the Filchner-Ronne ice shelf and lowered a camera down the hole to take a look around.
To their astonishment, they discovered a hidden ecosystem of sponges and other unidentified aquatic life forms living on the underside of a large boulder in the freezing, pitch-black depths.
It is the first time that immobile organisms such as these have ever been observed beneath the Antarctic ice shelf and their presence has left scientists scratching their heads.
"There's all sorts of reasons they shouldn't be there," said researcher Huw Griffiths.
Chief among these is the fact that these appear to be filter feeders which typically eat nutrients that fall down from above. Deep beneath the ice however, it is unclear where this food source is coming from.
It has been suggested that these nutrients must be getting carried along on currents beneath the ice, however the nearest up-current source of sunlight is over 600km away.
It is also unclear whether or not these organisms are a known species.
"We've discovered this isn't some graveyard where a few things cling on, it's more complicated than we thought," said Griffiths.
The discovery suggests that life can thrive in regions of the world thought totally uninhabitable - a promising sign that places like the oceans of Jupiter's moon Europa could also harbor life.
Source: New Scientist | Comments (4)
Similar stories based on this topic:
Tags: Antarctica