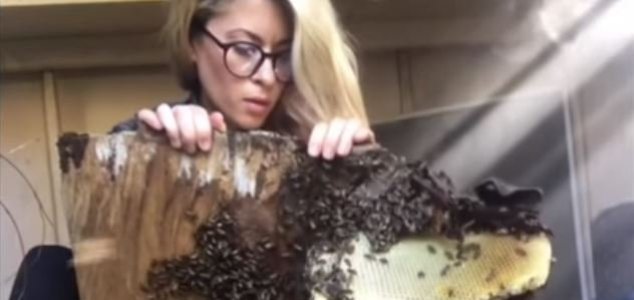 Are there bees under your garden shed ?

Image Credit: YouTube / Texas Beeworks
A recent viral video shows beekeeper Erika Thompson uncovering a huge beehive beneath a garden shed.
Finding a nest of bees in your home or garden can be problematic at the best of times, but imagine discovering an enormous hive underneath the floorboards, accessible only via a tiny hole.
This was the situation faced by Texas beekeeper Erika Thompson recently when she was called out to remove a hive that had been slowly growing in size beneath a garden shed for over two years.
The video, which shows her carefully lifting up the floorboards and removing the hive, has since gone viral, with more than 1.5 million people viewing it on Twitter alone.
Whereas most people would sooner run a mile than go near the bees, Thompson proved herself ever the professional by not only cutting the floor open to access the hive, but also removing the honeycombs without any protective clothing whatsoever - not even gloves or headgear.
"Bees had been living in this backyard shed for over two years and I was called to rescue them," she wrote. "Here's a quick look at the bee removal process and what it's like to be a beekeeper working every day to save the bees!"
She has described the reaction to her video, which you can view below, as 'incredible' and joked that it was 'just a normal Tuesday' for her.
Source: BBC News | Comments (7)
Similar stories based on this topic:
Tags: Bees