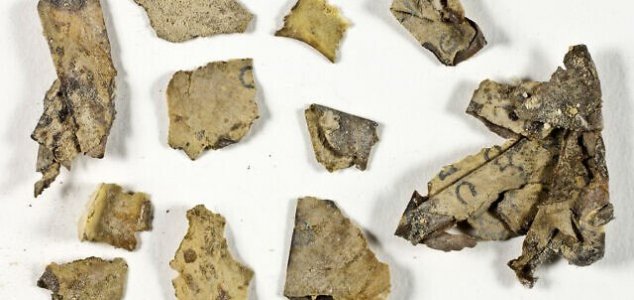 Only a few fragments of the original scroll remain.

Image Credit: Shai Halevi / Israel Antiquities Authority
The discovery - the first of its kind in decades - was announced this week by the Israel Antiquities Authority.
The texts, which are comprised of around two dozen small fragments, were discovered inside a cave in the Judean Desert during an extensive archaeological survey spanning several years.
Written in Greek, the fragments contain passages from the Minor Prophets.
They were found alongside several other artefacts including the 6,000-year-old skeleton of a child and a remarkably well-preserved basket dating back 10,000 years.
The discovery has been deemed the most significant of its kind since the Dead Sea Scrolls.
"The aim of this national initiative is to rescue these rare and important heritage assets from the robbers' clutches," said Israel Hasson, director of the Israel Antiquities Authority.
"The newly discovered scroll fragments are a wake-up call to the state. Resources must be allocated for the completion of this historically important operation. We must ensure that we recover all the data that has not yet been discovered in the caves, before the robbers do. Some things are beyond value."
The cave in which the items were found is situated 80 meters below the top of a cliff and can only be accessed using ropes and climbing equipment. On the plus side, this would have helped to deter looters from stealing the archaeological treasures stored inside.
"In as early as the late 1940s, we became aware of the cultural heritage remains of the ancient population of the Land of Israel with the first discoveries of the Dead Sea Scrolls," added Hananya Hizmi of the Civil Administration's Archaeology Department.
"Now, in this national operation, which continues the work of previous projects, new finds and evidence have been discovered and unearthed that shed even more light on the different periods and cultures of the region."
Source: Jerusalem Post | Comments (5)
Similar stories based on this topic:
Tags: Dead Sea Scrolls