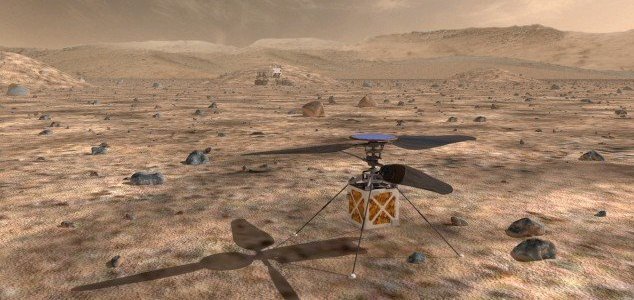 Flyer 1 will be making history once again.

Image Credit: NASA / JPL
NASA's experimental Mars helicopter is carrying a piece from the Wright Brothers' original aircraft.
In just a few weeks' time, NASA will be trialling out a type of vehicle that has never been sent to another planet before - a helicopter drone named Ingenuity.
Having hitched a ride to the Red Planet in the belly of the Perseverance rover, Ingenuity will be the first powered aircraft to ever take to the skies of another world.
In total, it will aim to achieve five individuals flights over the course of several weeks. If it succeeds, helicopter drones could become an integral part of future exploratory space missions.
What makes Ingenuity's mission so special - in addition to being the first - is the fact that the drone will be carrying with it a tiny piece of history in the form of a scrap of fabric from the Wright brothers' history-making airplane Flyer 1 which took off for the first time in December 1903.
Its success brought about a new age of aviation that would change the world forever.
At around the size of a postage stamp, the fabric will soon be a part of another history-making flight.
A separate piece of Flyer 1 was previously carried to the Moon and back aboard Apollo 11.
"The future of powered flight in space exploration is solid and strong," said NASA's Bobby Braun.
Source: Space.com | Comments (4)
Similar stories based on this topic:
Tags: Mars, Helicopter