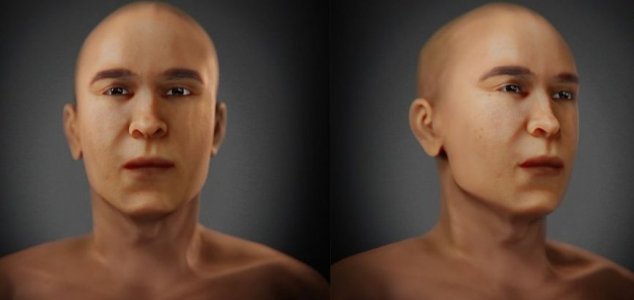 Is this the face of King Tutankhamun's father ?

Image Credit: FAPAB Research Center
Scientists have reconstructed the face of an ancient Egyptian pharaoh who died over 3,000 years ago.
The remains - believed to be that of the pharaoh Akhenaten - were originally unearthed in 1907 in Egypt's Valley of the Kings only a few feet from the tomb of King Tutankhamun himself.
For years, researchers struggled to confirm the relationship between the two, but more recently, a genetic analysis seemed to suggest that the pharaoh was in fact King Tut's biological father.
Even so, some remain unconvinced and the issue continues to be hotly debated.
Now a new facial reconstruction of the pharaoh has been produced which shows his physical appearance in more detail than was ever previously possible.
Created by scientists at the Forensic Anthropology, Paleopathology, Bioarchaeology Research Center (FAPAB) in Sicily, the reconstruction drew upon the skills of 3D forensic artist Cicero Moraes.
Whereas previous reconstructions showed hair, jewelry and other features, this one has focused exclusively on the core facial traits.
A more detailed report of the reconstruction is set to be released in the near future.
Source: Live Science | Comments (9)
Similar stories based on this topic:
Tags: Pharaoh, King Tut