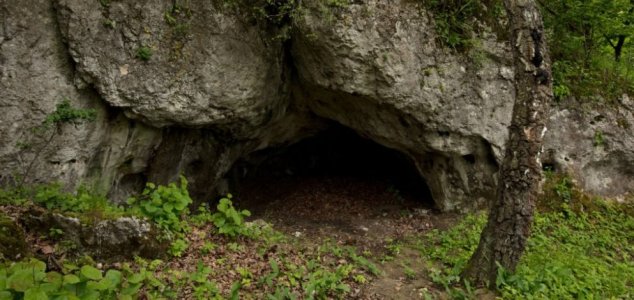 Outside Tunel Wielki Cave.

Image Credit: M. Bogacki
A young girl buried in a European cave centuries ago was discovered with the head of a finch in her mouth.
This perplexing archaeological mystery, which concerns a burial first discovered in Poland's Tunel Wielki Cave in the 1960s by archaeologist Waldemar Chmielewski, has only recently come to light.
According to new radiocarbon dating techniques, she died around 300 years ago, however the peculiar circumstances surrounding her burial have left experts scratching their heads.
For one thing, Europeans had stopped burying their dead in caves long before this point, while the discovery of a bird's head inside the girl's mouth makes this burial unlike any other previously seen in Europe from this time period.
"Cave burials are generally absent from historical periods in Europe," researchers wrote.
"Consequently, the discovery of a post-medieval inhumation of a child buried with at least one bird head placed in the mouth in Tunel Wielki Cave is an exceptional find."
A closer investigation of the skeleton has since revealed that the girl was around 10 to 12 years of age when she died. It is also thought that she may have suffered from some form of metabolic disease.
There was however no indication of exactly what had killed her.
"Among many cultures, the souls of children have also been conceived in the form of small birds," the researchers wrote. "Nevertheless, in the period in question, birds were never deposited into graves, let alone being placed in the mouth of the deceased."
"The riddle of the unique child burial from Tunel Wielki Cave cannot be fully explained."
Source: Live Science | Comments (4)
Similar stories based on this topic:
Tags: Burial, Bird