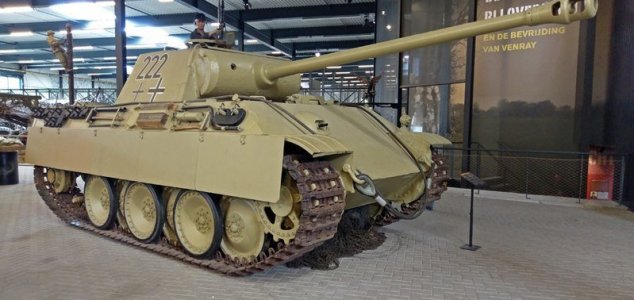 Not your average ornament.

Image Credit: CC BY-SA 4.0 Torsten Morke
Lawyers are currently negotiating penalties for a German man who was storing 'weapons of war' in his cellar.
The peculiar story began in 2015 when a significant amount of World War II weaponry was removed from the cellar of a pensioner who lived in the northern German town of Heikendorf.
Among his collection was a full-size Panther tank, an anti-aircraft gun, a torpedo and a large selection of small arms including assault rifles and pistols.
Keeping such items is considered illegal in the country due to Germany's War Weapons Control Act which forbids the manufacture, sale, storage or transport of weapons used during wartime.
The authorities were reportedly tipped off after a search was conducted for stolen Nazi art.
The man now faces two problems - a potentially hefty fine of up to 500,000 Euros and the unenviable task of finding new homes for all the items.
His lawyers have argued that, since the weapons are nonfunctional and the tank was originally bought for scrap, the fine should be reduced to 50,000 Euros.
It is believed that a museum in the US has expressed an interest in acquiring the vehicle.
A final decision on the case is expected next month.
Source: BBC News | Comments (20)
Similar stories based on this topic:
Tags: German, Tank