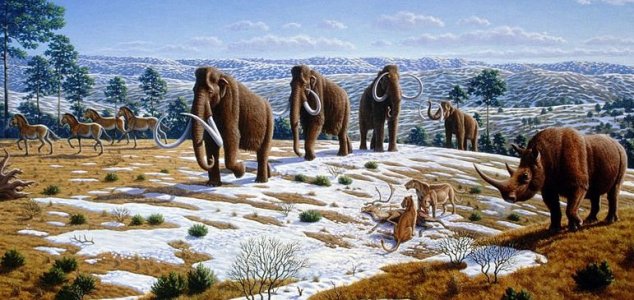 Mammoths traveled enormous distances.

Image Credit: CC BY 2.5 Public Library of Science
Scientists have identified a mammoth that roamed a distance equivalent to circling the entire planet twice.
The extreme range of these gigantic Ice Age mammals has been realized for the first time thanks to a detailed analysis of mammoth tusks carried out by a team of scientists at the University of Alaska.
Mammoth tusks are a little bit like tree rings, storing information about the animal's life when it was alive and preserving chemical traces that can point to specific parts of the world.
By studying the tusks of a mammoth that lived 17,000 years ago, the team was able to determine that this particular animal managed to roam over 70,000km - almost twice the Earth's circumference.
"It's not clear-cut if it was a seasonal migrator, but it covered some serious ground," said study co-author Dr Matthew Wooller. "It visited many parts of Alaska at some point during its lifetime, which is pretty amazing when you think about how big that area is."
The mammoth, which was unearthed at the state's Brooks Range mountains, was thought to have been 28 years old when it died, which is around half the life expectancy of the species.
"From the moment they're born until the day they die, they've got a diary and it's written in their tusks," said co-author Dr Pat Druckenmiller.
"Mother Nature doesn't usually offer up such convenient and life-long records of an individual's life."
Source: BBC News | Comments (2)
Similar stories based on this topic:
Tags: Mammoth