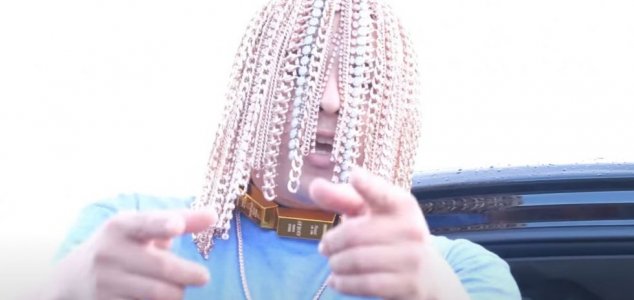 Not your average look.

Image Credit: YouTube / Dan Sur
A Mexican rapper by the name of Dan Sur claims to be the first person to have chains implanted into his skull.
When it comes to accessories, most people are content with getting their ears pierced, but for others, there is practically no limit to what they will pierce or implant into their own bodies.
23-year-old Mexican rapper Dan Sur for instance has taken things to the extreme by replacing his natural hair with a set of gold chains that he has allegedly had surgically implanted into his head.
"This is my hair," he said. "Golden hair. The first rapper to have gold hair implanted in human history."
"The truth is that I wanted to do something different because I see that everyone dyes their hair."
"I hope not everyone copies me now."
Sur has since appeared in a number of videos on TikTok and YouTube showcasing his new metallic locks. It's not clear if the chains really are implanted, nor is it clear what type of metal they are made from, but it's unlikely to be actual solid gold given how heavy and expensive that would be.
"I have it as a hook that is implanted in my head and that hook has hooks and they are all hooked in my skull, under my skin," he explained in one of his videos.
The result is certainly striking, albeit a bit impractical given that he can hardly see where he's going.
According to doctors, such implants are also potentially dangerous and can lead to infections and long term health issues - especially if the metal chains themselves are heavy.
Whether or not Sur will decide to keep his new locks however remains to be seen.
Source: Oddity Central | Comments (20)
Tags: Dan Sur