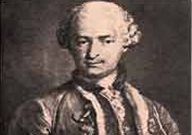 Paul Dale Roberts meets Count Saint-Germaine
Posted on Monday, 16 March, 2009 |

4 comments
Columnist:

Paul Dale Roberts
Since I place my contact information into all of my articles, I get contacted by individuals from all around the world, who make bizarre claims. Let me introduce you to Charles Germaine (Note: Charles is a fictitious name to protect the interviewee). Charles contacted me via cell phone. His claim is that he is no other than the immortal Comte de Saint-Germaine. Yep, I am talking about the one and only immortal Saint Germaine! This is a big claim and I had to meet this guy, he seemed pretty familiar with the legend. The date is December 6, 2008, Saturday. I decided to meet him at Center Court Restaurant, 3600 N. Freeway Blvd. The reason why I picked this restaurant is the fact the Department I work for had their Christmas Luncheon/Party here on Friday night and I had a blast and brought with me Ghost Girl Shannon McCabe. The cheeseburgers and fries are incredibly delicious. After Shannon and I finished off our lunch we played the White Elephant Gift Exchange, Shan won a salad mixer and I won a cheese/sausage package that included a mini-meat cleaver. I later got lucky and won the liquor gift basket filled to the hilt with assorted spirits and a $30.00 VISA gift card. Oh yeah, it was my lucky night, so I figured if I met Charles Germaine at the Center Court, I would get lucky again. My luck would have me actually interviewing the real Count Saint Germaine! Well, no such luck.
When Charles came up to the bar at the Center Court, he appeared to be in his late 20s, his ID card confirmed he was 28 and his last name was really Germaine! I knew he was a fraud instantly, because he stood at 6' 1". The real Count Germaine was known to be a small man. 6'1" is not considered small. I talked with Charles a bit and he made claim that he has gone through many names and that he was also known as Judas, the man who betrayed Jesus. Another discrepancy with Charles is that when Count Saint Germaine made his first appearance in France in 1756, he appeared to be about 50 years old. Charles here is 28. Does immortality make you younger and grow taller? Hmmm…something doesn't smell right here. I asked Charles if he knew anything about medical science and what he knew of music and paintings. Charles ignored my question and told me that he was once friends with Madame de Pompadour (mistress of Louis XV). I again asked Charles about what he knew about medical science. He said he knew enough and would not elaborate. I then at this time shook Charles hand and excused myself and departed. Charles was somewhat surprised and shocked that I didn't want to hear anymore of his story. I usually will stick around and listen to a story and relate it to my readers and allow them to make their own decisions on what is true or what is not true. But, there were too many obscene discrepancies. The two that stood out was his height and his age. I should have been talking with a small man that looked to be in his fifties and not a tall man that was in his late 20s.
Comte de Saint-Germaine, probably not his real name, spoke many languages; he was very familiar with medicine and was known to be a chemist. He was known to wear black velvet and a white satin cravat. He was quite the conversationist and would entertain a group of people with his wondrous adventurous stories. He was known to be pompous and arrogant. When he walked into a room, he commanded attention. He had to be wealthy, because he was seen with servants and wore many diamonds. He would have made Sean 'Diddy' Combs blink. He definitely liked his 'bling'. He was known to contradict himself, at times he would say he was 300 years old and other times, he said he was 4000 years old. He could identify paintings with a glance. His popularity skyrocketed when he once saved a lady from mushroom poisoning. Count Saint-Germaine's life was as adventurous as the life of James Bond, he was able to charm the ladies, and others became envious of his good fortune and conspired to have him arrested as a spy. Count Saint-Germaine had an ace up his sleeve, he had important connections. One of those connections was King Louis, who trusted Germaine and sent Germaine over to Holland as a diplomat. One living legend that didn't like Germaine was Casanova, who would try to discredit him later in life. Legend would have it that Germaine was involved in the Russo-Turkish War of 1768-74 and claims were heard throughout the land that Germaine could transform lead into gold swept through the land. The sightings of Count Saint-Germaine continued for many years, all the way up to 1972, when an individual by the name of Richard Chanfray appeared on French TV and made claim that he was the real Count Saint-Germaine.
Unless an immortal has the ability to transform their appearances, Charles Germaine that I met at Center Court was not the real Count Saint-Germaine. Of course, I am not immortal and maybe, just maybe I walked away from the legendary Count Saint-Germaine. Well if I did…….my bad.
Now, let me talk about other paranormal matters.
I have been told that orbs are not paranormal, that they are either dust, pollen, skin flakes, or moisture. I absolutely agree, see Troy Taylor's article below:
http://www.prairieghosts.com/trouble.html
Now, that you have read Troy's article, you can see why it is important to prove the orb is paranormal in nature. How do you do that? With a video camera and monitor. Sit yourself on a chair; tell the moving orb to sit on your lap. In one case we had the orb actually hover over my lap for a good 5 minutes. Another time, we told the orbs to move towards Shannon McCabe's outstretched hands and a series of orbs started darting towards Shannon's hand several times over. This shows some sign of intelligence and is hard to discount as mere skin flakes that caught the reflection of the camera's flash.
I have been reminded by a reader that high EMF readings may cause the occupant of a haunted home to have delusional thoughts and paranoia. Case example, a haunted home has a toxicology report done on the land. The land is contaminated with various toxins. These toxins may have brought on neurological issues, paranoia and hallucinations.
The same reader provided this information via email, in his own words:
"This theory is also backed up by scientific studies involving the number of reports of paranormal activity in conjunction with EMF's. One such study was done by Dr. Michael Persinger, Professor of Psychology at Laurentian University, Ontario, Canada. Dr. Persinger was inspired to conduct his study based on a previous study that he was involved with. In this previous study, Dr. Persinger compared thirty seven years of haunting incidents reported in Fate magazine to geometric activity occurring on the same dates as the reported incidents. He found enough correlation between the two that he began his own study in order to further develop this theory.
In his own study he was able to duplicate similar incidents of paranormal activity by bombarding the subject's temporal lobes with elevated electro-magnetic energy. Through his experiments he was able to prove that increased EMF exposure—even short term—can cause frontal-lobe hallucinations. Some of the reported effects of being exposed to higher-than-normal electro-magnetic energy were very similar to those of paranormal activity. The study participants reported feelings of a presence in the room, being watched, fear and general paranoia, seeing blurry dark figures out of the corners of their eyes, and hearing unexplained noises. This of course does not prove that all paranormal phenomena are caused by EMF's, but it does prove that higher-than-normal EMF's can produce similar effects on subjects in a laboratory, which is a big deal when it comes to science."
How interesting that I would receive this information, because the O.S.I.R. (Office of Scientific Investigation) was actually an environmental research organization and due to their environmental research, it lead into the paranormal. The OSIR sought out answers by looking into conventional environment solutions when investigating paranormal cases. On many investigations, when I interview the occupants, they tell me how they see darting black figures via their peripheral vision. A few of those cases, there was indication of high EMF readings. So, this theory does sound like it has some substance to it.
I totally agree with the reader, that a sound thorough completed investigation would include toxicology reports and concise EMF readings. Plus, investigators should never, never jump to the conclusion that all orbs are paranormal in nature. When you are able to show that you are getting intelligence responses from orb activity, then just maybe you have something that is truly considered 'paranormal'.
Paul Dale Roberts, HPI General Manager, Paranormal Investigator & Ghostwriter
Haunted and Paranormal Investigations International
www.HPI.paranormal.net
www.ghostgirls.net
www.nancybradley.org
www.jazmaonline.com
Staff Writer - Alien Seeker News -
http://www.alienseekernews.com/
http://www.shannonmccabe.com/Conversations...rialkiller.html
(See Paul & Shannon on TV Show 'Conversation w/a Serial Killer at link above)
http://en.wikipedia.org/wiki/Paul_Dale_Roberts
WPRT Paranormal Radio - Content Editor
Email: JazmaPika@cs.com
Paranormal Cellular Hotline: 916 203 7503 (for comments on this story).
If you have a possible investigation call: 1-888-709-4HPI
Copyright © 2008 Paul Dale Roberts, HPI Ghostwriter Copyright © 2008 all rights reserved.
Article Copyright© Paul Dale Roberts - reproduced with permission.