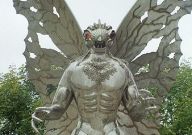 The mothman dilemma
Posted on Thursday, 19 March, 2009 |

17 comments
Columnist:

Paul Dale Roberts
As I am driving the Ghost Tracker vehicle around Sacramento, I come upon the Tower Bridge that allows travelers to go from West Sacramento into Old Sacramento. I am listening to High Time We Went by Joe Cocker and 4 Minutes by Madonna & Justin Timberlake. The day is beautiful and the music is upbeat. I keep surveying the bridge, because of an unusual email that I received.
Here is the partial email:
"Hey Paul, looking forward to the upcoming scouting mission. I had an unusual experience 3 weeks ago, my buddy and I were crossing over the Tower Bridge and we saw this huge black thing with huge wings fly off the bridge and go down the Sacramento River. I was thinking, could this be the Mothman? What do you think? I wish I could have taken a picture of this thing, it was sure big! No way could it be a bird!"
Now, that I am driving around the Tower Bridge, I am looking for any signs or indications that a big black thing was on the bridge. I don't see any signs of imprints, large feathers or anything else that I can see from my vantage points at the bridge. My Mothman investigation becomes inconclusive. I asked the person that emailed me, if he had been drinking or on any kind of narcotics. His response was definitely 'no'.
I can only wonder if he is influenced by the movie or the book, the Mothman Prophesies. He claims he never read the book, but has seen the movie on DVD. The Mothman was prevalent during 1966, when the Mothman was first sighted by David & Linda Scarberry & Steve & Mary Mallette.
The two couples claimed the creature was at least 7 feet tall, with a huge wing span. It walked upright like a man and had two very red eyes. The Mothman was first sighted near the West Virginia Ordnance Works, an abandoned WWII TNT factory.
I can only wonder if this abandoned WWII TNT factory could have opened up some kind of dimensional rift that allowed Mothmen creatures to enter our reality. Scientists theorize that our Multiverse is made up of many universes that are side-by-side with each other. These universal membranes are so close, that if you can find wormholes or dimensional intersections, you could go from one dimensional universe to another. Could the Mothman somehow come into our dimension via a dimensional wormhole or intersection created by the West Virginia Ordnance Works?
For a good while, people of Point Pleasant reported seeing this creature, it was also reported that the Men in Black were involved in interrogating witnesses. I can only wonder why, we are not being visited by the Mothmen on a more frequent basis, like the Bigfoot. I heard one report that the Mothman was seen before 9/11 at the Twin Towers. This was never verified as true. Some people theorize that the Mothman appears before a disaster, since he appeared before the Silver Bridge Collapse in Point Pleasant and wasn't seen afterwards or the sightings dwindled down to nothing.
It will be interesting to see if anything disastrous happens in Sacramento...if what my email friend says is true. That he and his buddy saw something that could have been the Mothman on that night. I can only wait and see. But, to be honest, I doubt it.
Paul Dale Roberts, HPI General Manager, Paranormal Investigator & Ghostwriter
Shannon McCabe's HPI
Haunted and Paranormal Investigations International
www.HPIparanormal.net
Most Haunted House in Stockton Videos Part 1 and 2:
http://www.youtube.com/watch?v=mThhLfUGOBA...re=channel_page
http://www.youtube.com/watch?v=pupabgprb68...feature=channel
Paul on Wikipedia, click link below:
http://en.wikipedia.org/wiki/Paul_Dale_Roberts
www.jazmaonline.com
Staff Writer - Alien Seeker News -
http://www.alienseekernews.com/
WPRT Paranormal Radio - Content Editor
Email: JazmaPika@cs.com
Paranormal Cellular Hotline: 916 203 7503 (for comments on this story).
If you have a possible investigation call: 1-888-709-4HPI
Copyright © 2009 Paul Dale Roberts, HPI Ghostwriter Copyright © 2009 all rights reserved.
Article Copyright© Paul Dale Roberts - reproduced with permission.