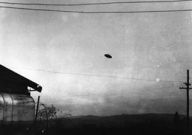 UFOs explained and unsolved
Posted on Sunday, 13 September, 2009 |

0 comments
Columnist:

Peter Fotis Kapnistos
Some modern UFO myths were produced by the German development of rocketry and jet aircraft, which led to the missile and space programs of the Soviet Union and the United States. UFO sightings during World War II, mainly those known as foo fighters, were thought to be enemy craft. German flying discs were said to be advanced aircraft or spacecraft developed during World War II. Some believe that German scientists continued to develop flying saucers in Antarctica.
The Explained
1950 - Giuseppe Belluzzo, an Italian scientist and former Minister of National Economy under Mussolini, said flying discs were designed in Germany and Italy as early as 1942. Quoted in the Italian newspaper Il Giornale d'Italia, Belluzzo said some great power was launching discs to study them. That same year, German engineer Rudolf Schriever gave an interview to the German magazine Der Spiegel, saying he had designed an aircraft powered by a circular plane of turbine blades, 49 feet in diameter. His team at BMW's Prague works had developed the Nazi flying disc project until April 1945, when he fled Czechoslovakia.
1952 – A company called Avro Canada began to study designs for a supersonic circular wing fighter-bomber, subsidized by the Canadian government. The Canadian government soon abandoned the flying disc project as being too costly, but enough progress had been made to spark the interest of the U.S. government.
1953 - German engineer Georg Klein said that while Avro Canada announced it was developing a circular jet aircraft with an estimated speed of 1,500 mph (2,400 km/h), such flying disc designs had originally been developed during the Third Reich.
1954 - The first of two U.S. Air Force contracts totaling $1.9 million was awarded to Avro for further study. Avro chipped in $2.5 million and completed design studies and small-scale test on a vehicle designated the P.V. 704 (U.S. designation, System 606A). The 606A flying disc design was almost 30 feet in diameter with a maximum weight of 27,000 lbs and a design speed over 1,000 mph.
1958 - The U.S. Army also became interested in the Avro project. The Air Force agreed to redirect its effort as this could demonstrate the design features of the 606A concept in less time at a much lower price. The resulting craft was named Avrocar and given the Army designation VZ-9AV (VZ for vertical take-off reseach aircraft, 9 as it was the ninth in a series and AV for Avro). The Avrocar was a saucer-shaped disk 18 feet in diameter and 3 feet thick. It was designed to go 300 mph and able to fly to an altitude of 10,000 feet. It weighed 5,650 lbs and had separate cockpits for two crewmembers.
1959 - Two flying disc prototypes rolled out of the Avro factory. The first Avrocar was sent to NASA Ames, Moffett Field in California. It flew in 1961 and was used for wind tunnel testing. The second Avrocar prototype was said to be aerodynamically unstable.
1961 - The Avrocar flying disc program was allegedly terminated after a total of $10 million had been spent. The two prototypes were finally put on exhibit in the United States, one at the US Army Transportation Museum and the other at the Smithsonian.
1975 - Stealth aircraft became possible during the 1970s when Lockheed adopted a mathematical model developed by Russian scientist Petr Ufimtsev to predict the radar signature an aircraft made with flat panels, called facets. Engineers at Lockheed found that an airplane with faceted surfaces could have a very low radar signature because the surfaces would radiate almost all of the radar energy away from the receiver.
1980 - From the mid-1980s, triangular-shaped UFOs were observed in the skies. This was the era of US stealth aircraft, with a skin made of highly specialized materials in order to gain and maintain air supremacy.
1993 - The Aurora was the name given to an unmanned US reconnaissance aircraft or drone supposedly developed in secret "black" programs in the 1980s and alleged to be capable of hypersonic flight. The US has carried out numerous drone air raids in recent years. In a briefing note to the British Assistant Chief of the Air Staff (ACAS), Anthony Bagnall, then head of the Ministry of Defence's UFO desk, wrote that there was evidence of such an unidentified Aurora craft evading UK defenses.
1997 - Declassified documents revealed a USAF forty-foot flying disc designed to fire warheads from 300 miles in space. The American flying saucer was called the Lenticular Reentry Vehicle (LRV). Engineers at North American Aviation in Los Angeles designed it under contract with the United States Air Force. Direction was from Wright-Patterson Air Force Base, employing German scientists who had worked on WWII German rocket planes and flying disc technology.
2008 - A Chinese company developed a prototype flying saucer drone that can hover in the air and be controlled remotely from afar, Xinhua news agency said. The aircraft is 1.2 meters (four feet) in diameter and is able to take off and land vertically and hover at an altitude of up to 1,000 meters (yards). It took the Harbin Smart Special Aerocraft Co Ltd 12 years and 28 million yuan (4.1 million dollars) to develop the prototype flying disc, which is designed for aerial photography, geological surveys, and emergency lighting.
The Unsolved
http://reporter.blackraiser.com/wp-content/uploads/2009/08/unsolved.jpg
The Roswell incident continues to stir up allegations that the US government carried out a cover-up. UFO investigators claimed that a crashed alien spacecraft and bodies were recovered near Roswell, New Mexico in 1947.
Lately, the missing Apollo 11 tapes were pointed to as another possible cover-up. When Neil Armstrong first walked on the Moon in July 1969, the camera sent back color video far sharper and more vivid than the blurred pictures shown on TV –– stunning images that "only a handful of people have ever seen." But decades after the high-resolution NASA videos went into storage, they are nowhere to be found. The Goddard Space Flight Center said it haphazardly lost the original Moon tapes, or destroyed them. (Some hacked Internet videos show an alleged ancient Moon base, supposedly filmed by Armstrong.)
Here are some up to date unsolved incident items:
Feb 28, 2007 - Former Canadian Minister of Defense Paul Hellyer demanded that world governments disclose alien technology that could be used to solve the problem of climate change. "I would like to see what (alien) technology there might be that could eliminate the burning of fossil fuels within a generation... that could be a way to save our planet," Hellyer told the Ottawa Citizen newspaper.
March 22, 2007 - France became the first country to open its official files on UFOs. The national space agency unveiled a website documenting more than 1600 sightings spanning five decades.
June 22, 2007 - A mile-wide UFO –– one of the largest ever seen –– was observed by the crew and passengers of an airliner over the Channel Islands between Great Britain and Northern France. An official air-miss report on the incident appeared in Pilot magazine. Aurigny Airlines captain Ray Bowyer, flying close to Alderney spotted the mile-wide object, described as "cigar-shaped."
Nov 11, 2007 - The pilot of Olympic Airways flight 266 reported a UFO shortly after taking off from Athens en route to London. Staff at Athens airport, the pilots of two other passenger planes, and people at a nearby air force base also saw the flying object. Greek authorities kept the UFO encounter secret for over a year but finally released documents and pilot conversation recordings, generating huge public interest.
Nov 13, 2007 - Former pilots who reported strange phenomena in the sky demanded the US government reopen an investigation into UFOs. They offered accounts of witnessing UFOs, including a transparent flying disc and a triangular craft with mysterious markings. James Penniston, a retired US Air Force pilot described seeing and touching a UFO when he was at a British air base in Woodbridge. The UFO was "warm to the touch and felt like metal," Penniston said. After 45 minutes the light from the object "began to intensify" and it "shot off at an unbelievable speed" before air force personnel, he said.
Dec 18, 2007 - Japan's top government spokesman said he definitely believed unidentified flying objects exist. Chief Cabinet Secretary Nobutaka Machimura was speaking to reporters in response to demands lodged by an opposition lawmaker for an inquiry into "frequent reports of UFO sightings."
March 30, 2008 - Mrs. Izydora from Szczecinek (northern part of Poland) reportedly went with her husband on a trip and observed an outline of a humanoid entity hovering above the ruins of a former military complex. While her husband went toward the local forest, Mrs. Izydora decided to stroll amid ruins of the former military base. After a while she unexpectedly noticed in the mid-air some kind of semi-transparent entity. She said it looked like a "misty figure" of a man hovering several meters above the ground.
May 14, 2008 - The British Ministry of Defence opened its files on UFOs. Along with the unsolved cases were odd encounters when jet fighter pilots considered shooting down UFOs. The MoD said its investigation had to do with monitoring UK security and more files were being prepared for release over the next four years.
May 21, 2008 - Omar Ferlatti and Walter Lopez reported encountering a short glowing humanoid figure in a field in San Carlos, Salta, Argentina. The small humanoid figure appeared to be surrounded by a sort of "magnetic field," which prevented the men from approaching it. The figure was described as having human features, with long arms and long fingers but without fingernails. Around the same time a local sheep herder grazing in the nearby Valles Clachaquies reported being startled by a similar humanoid while guarding the herd.
June 7, 2008 - Three British soldiers said they saw UFOs, which looked like "rotating cubes," while on night patrol at Tern Hill military barracks near Market Drayton, Shropshire. Corporal Mark Proctor, of the 1st Battalion of the Irish Regiment, recorded the sighting on his mobile phone and reported it to Army officers. Two hours later, helicopter police officers reported an encounter with a huge craft 80 miles away near Cardiff. They claimed to have given chase to the "flying saucer-shaped" object after it almost collided with their aircraft near the Ministry of Defence base of St Athan.
June 29, 2008 - A Royal Navy aircraft engineer claimed to have seen a "glowing" UFO hover over the M5 motorway. It was reported as a circular disc glowing bright, hovering hundreds of meters up. Michael Madden said he watched in disbelief as the disc-shaped object floated above his head before it "zoomed off at incredible speed." He said the unidentified object flew for up to three minutes above junction 21 of the M5 near Weston-super-Mare of Somerset.
Oct 3, 2008 - Emmy Award-winning producer and author Linda Moulton Howe said that cattle had been seen rising in beams of light into large flying discs. In an interview with Leo Sprinkle, Ph.D., the former professor of psychology at the University of Wyoming reported that Judy Doraty and her teenage daughter, Cindy, watched a calf rise in a beam of light into a flying disc outside Houston, Texas in 1973. In a similar 1980 incident, a mother and her young son in Cimarron, New Mexico reportedly encountered non-human entities and watched a cow rise in an orange light beam.
Oct 24, 2008 - A US military veteran who worked in the helicopter aviation field while in the military reported seeing a huge object about the size of a large shopping mall and parking lot in the early morning hours. Truck driver Tim Comstock was on Route 7 north of the town of Empire, Ohio, when he saw the mile-wide UFO. "I looked up and there was a very bright object just above the tree level. It seemed self-luminescent. It was big. About the size of a large shopping mall and parking lot. It didn't look like anything mechanical by any means. To me, it looked like a cocoon," he told reporter Linda Moulton Howe.
Nov 6, 2008 - NASA scientists contributed to the spate of UFO videos posted on the Internet. The US space agency were filming from a shuttle outside the Earth's orbit in April 2008, when the cameras picked up some objects that have never been identified.
Nov 20, 2008 - Russian researcher Vladimir Azhazha said that extraterrestrials are greatly interested in human sperm and ovules. "Mikhail Gorbachev was the first and the last national leader who acknowledged the issue of unidentified flying objects in Russia. We established the public ufological center during his rule under my supervision," the Russian scientist told reporters. "It is not ruled out that they come from a civilization of parallel worlds, or from the ocean. Modern science knows very little about what's happening at ocean's depths," Azhazha said.
Nov 22, 2008 – The pilot of a British police helicopter carrying two police observers narrowly avoided colliding with a UFO over Birmingham. All three reported seeing a strange aircraft with two continuous blue-green lights. The object was less than 100 meters away and flew around them. The incident was detailed by the Airprox Board, which reports near misses to the military and air traffic control units. Nick Pope, who previously worked for the Ministry of Defence's UFO desk, said: "A helicopter was nearly blown out of the sky."
Dec 22, 2008 - Dr. Peter Creola, a retired Swiss chief delegate at the European Space Agency (ESA is the European version of NASA) and head of the Swiss office for space policies, joined the ranks of those who formally request the truth about UFOs. On the topic of disclosing the facts about UFOs, Dr. Creola said: "You cannot unconditionally trust NASA."
Jan 8, 2009 - An octopus-shaped UFO was reported flying through the air hours before a British wind turbine was destroyed in mysterious circumstances. Dozens of residents claimed to have seen bright flashing spheres is the skies near Louth, Lincolnshire, where a 290 ft turbine was mangled in a mystery collision. One woman said she saw an object fly towards the wind farm, while others described the lights as being linked by tentacles, leading locals to dub it the octopus UFO.
Jan 17, 2009 - A mysterious blue car-shaped UFO was photographed in Darwin, Australia as it flew across a cloudy sky. Amateur photographer Mark Schmutter snapped the shots from the ninth-floor balcony of a friend's apartment. He said he saw the object move across the sky about the speed of a plane –– then it flew straight upwards before it disappeared into the sky. Mr Schmutter said he had no idea what the object was –– be it a strange, newfangled aircraft or a UFO shaped like a car.
Jan 19, 2009 - A UFO was seen and filmed in China by a squadron of fire fighters in Liu Pan Shui City in the province of Guizhou. One of the fire fighters, Wang Jia Wei, noticed an odd flashing star and got a camera with 700X zoom. The filmed UFO was made of two rotating spinning top-shaped vehicles or halves of a whole craft joined at their bases. Members of the Liu Pan Shiu meteorological bureau were unable to identify the object.
Jan 30, 2009 - The Danish Air Force released 329 pages of previously classified archives on UFO sightings, including details on more than 200 unsolved cases. The Air Force said the archives contain details of unexplained events occurring between 1978 and 2002, before the job of chronicling UFO sightings went to a group called Scandinavian UFO Information.
Feb 12, 2009 - NASA Ames Research Center astrobiologist Lynn Rothschild debated the topic of alien life with the Vatican Observatory's director emeritus George Coyne. The Catholic Church opened to the idea of life on other planets, with the head of the Vatican observatory, José Gabriel Funes, conceding the possibility of extra-terrestrial life.
Feb 21, 2009 - The Canadian Government authorized open public access to thousands of federal government documents concerning UFOs. A total of 9500 digitized documents spanning the years 1947 to the early 1980s were made available through the Library and Archives Canada website.
April 20, 2009 - Former Apollo 14 astronaut Edgar Mitchell, who made the longest moonwalk in history, said alien life does exist and the US government is blocking the information from getting out. Mitchell addressed the issue of extraterrestrial life at the National Press Club in Washington.
July 19, 2009 – Former astronaut Buzz Aldrin, the second man to walk on the Moon, claimed in a C-SPAN interview that there's a monolith on one of the moons of Mars. Some observers said that the recent wave of qualified comments and classified files released by various governments are part of a slow and lengthy but well orchestrated UFO disclosure.
July 21, 2009 - The Russian Navy declassified its records of UFO encounters, many of which took place in or around water, according to the web site of the English-language Russian news channel Russia Today. "They are most often seen in the deepest part of the Atlantic Ocean, in the southern part of the Bermuda Triangle, and also in the Caribbean Sea," said one intelligence officer. In perhaps the most compelling account, military divers in Siberia's Lake Baikal, the world's deepest lake, encountered humanoid creatures dressed in silvery suits at a depth of 160 feet. Three people reportedly died during that naval chase.
August 17, 2009 - A former head of the British armed forces told the defence secretary a UFO claim known as Britain's Roswell could be a political embarrassment, according to newly released files. In 1985 Lord Hill-Norton wrote to Michael Heseltine about the "Rendlesham incident" in 1980, when US airmen in Suffolk said they saw strange lights. He said an unknown aircraft may have entered and left UK airspace.
Peter Fotis Kapnistos
Article Copyright© Peter Fotis Kapnistos - reproduced with permission.