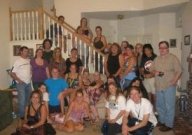 The 'hey, notice me!' ghost of Roseville
Posted on Thursday, 7 October, 2010 |

1 comment
Columnist:

Paul Dale Roberts
11:11am: The 11:11am phenomenon seems to be following me everywhere I look. I get 1:11, 11:11 when I am about to do something of significance. I am writing this at real time and looking at the computer clock, it is 11:11am. Well, enough of that, let's talk about the case tonight. The date is September 25, 2010, Saturday. Tonight we are headed for Roseville. I call the entity the 'Hey, Notice Me! Ghost. It seems to want to capture the attention of the occupants.
This is the original email that I received from occupant Heather Kern:
"Hi Paul,
I am a friend of Tiffany Gonzales.. She may have mentioned to you about my home in Roseville. Me and my family believe we have a ghost that lives in our house. We will be downstairs and always hear footsteps upstairs and no one is up there. On two different occasions my boyfriend and I heard someone talk to us. I was in my backyard and I heard a loud voice yell my name. My boyfriend was in the kitchen and heard someone say "hey" he was home alone. Another thing that I find a little strange, my 1 year old daughter will look up in the air focus on something, smile and say hi. She has done that about half a dozen times, she will also look up and laugh. We believe there is something here. We are not scared we just want to know....... Thanks for your time!!!!"
Paul's Comments:
From what Heather is telling me, the entity seems very benevolent and harmless. The entity basically wants to communicate to the occupants. The entity has a message and tonight I hope to find out what that message is.
HPI Ghosthunters Present: Paul Dale Roberts - HPI General Manager; Lisa Gottschalk; Marie Oswood; Kris Oswood-Ragasa; Steve Roland/Senior Lead Investigator and Jen Roland/Psychic; Angel Kesti; Jacob Beaver; John Shue - Videographer; Rhonda Hall; Sandra Brandenburg; Drew Tadlock; Judy Miller; Ben Hall; Eric Miller; Heather Kern; Tiffany Gonzales/Senior Lead Investigator; Madalynne Kashow; Megan Kern; Morgan Kashow; Sierra Kashow; Stephanie Belson- Psychic/Senior Lead Investigator; Julie Matta - Senior Lead Editor; Andi Whalen, Chantal Apodaca - Senior Lead Investigator; Julie Cicero; Jen & Kara (Kasper) Koyasako.
At this home there are 3 areas to investigate. The backyard, the 2nd floor and the first floor. Senior Lead Investigators with teams are: Chantal Apodaca, Steve Roland and Stephanie Belson. Chantal heads Team Zulu. Steve heads Team Whitesox. Stephanie heads Team Status Quo. Stephanie left early and Senior Lead Investigator Tiffany Gonzales takes her place.
The evening will consist of 45 minute investigative sessions with an evidence briefing after each session.
Equipment being used: video cameras, digital cameras, walkie talkies, digital audio recorders, Ghost Radar, divining rods, night vision infra-red binoculars. Divining rods are not to be used as absolute evidence of the paranormal, but the divining rods confirmed it is Heather's deceased father that is present in the home and that he is watching over his grandchildren and is a protective spirit for the family.
FIRST INVESTIGATIVE SESSION EVIDENCE BRIEFING:
Obtained an EVP that says 'I think so' and another EVP that sounds like a small girl. Chantal is picking up on a thin man looking out the window. The entity was described as a man with salt and pepper hair, weathered face, late 50s with glasses. Some of the investigators felt a breeze in the bedroom and a scratching sound on the wall. Stephanie heard sounds coming from the wall. Chantal and Stephanie picked up the name Jim and James. Come to find out, Heather's deceased father is named Jim. Chantal saw gas vapor type of an apparition with her third eye. Heather gives her thoughts in her own words: "I do believe my father is here, I didn't get to spend a lot of time with my father growing up, however when he was diagnosed with cancer we became a lot closer. After my father passed I always felt his presence around me. Anytime I go through a rough time I always feel that he is with me. I feel a calming sensation come over my body and warmth on my shoulders like he is touching me."
Photographic anomalies are orbs, designer orbs and light streaks. Disclaimer: Still photos of orbs are not proof of the paranormal, unless you can determine intelligent movement via monitor and video camera.
SECOND INVESTIGATIVE SESSION EVIDENCE BRIEFING:
Stephanie's group received no results. Steve's group there was a lot of psychic impressions and some of the investigators with psychic abilities believe the entity is attached to Megan. Ghost radar used by the group has words popping up that coincide with questions asked. Disclaimer: Ghost Radar is used as a tool and is not paranormal evidence. Chantal's group receives one EVP, a woman's voice that says...."ahhhhhhh, you know what I think?". Another name that was picked up via psychic abiliies was the name of Andrew. Andrew is the owner of the home.
THIRD INVESTIGATIVE SESSION EVIDENCE BRIEFING:
This was the grand finale, the fireworks went off with a vengeance! 4 investigators saw full body apparitions of a shadowy man on the stairwell, they were all seeing the apparitions. One of the investigators started snapping pictures and got very unusual anomalies on his photographs, that look like a brown mist forming into a human figure. One of the moving energy photos was taken at the top of the stairwell. An investigator was touched on the leg (personal experience). John was touched on the buttocks (personal experience). I obtained an EVP in front of 7 investigators and one of the investigators said that there was an entity standing next to me, I then said in my recorder: "What is your name?" The EVP of a man says: "Jimmy". Jim or Jimmy is the deceased father of Heather.
The enthusiasm is running high with the investigators, so they decided to conduct one more investigation, a free-for-all where they can go anywhere in the house.
To see pictures of this event go here, more pictures to come:
http://s970.photobucket.com/albums/ae185/PaulDaleRoberts55/Roseville9252010/
Paul Dale Roberts, HPI General Manager aka The Demon Warrior
Shannon McCabe's HPI (Haunted and Paranormal Investigations International)
www.hpiparanormal.net
Article Copyright© Paul Dale Roberts - reproduced with permission.