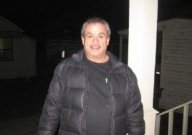 Ghostly hand of Quiet Haven Cemetery
Posted on Monday, 14 February, 2011 |

0 comments
Columnist:

Paul Dale Roberts
Only ten people could go on this investigation, so headed over to my house were John Shue, Videographer, Jennifer Newell - Psychic, Rhonda Hall - Empath. Three HPI newbies from Fresno and 2 HPI newbies from Modesto were going to meet us at Atwater. Jennifer sent out a Facebook notice of cancelation and the Fresno group saw the message in time, before making the long trip to Atwater. I apologize to the newbies for the last minute cancelation.
As Jennifer, John and Rhonda entered my home, I had to come up with a Plan B. Plan B would take us to the town of Locke which is very haunted and to the famous Ryde Hotel where famous celebrities and politicians have stayed at. Celebrities like Elizabeth Taylor and Clark Gable. Mick Jagger and the Rolling Stones partied at the pool after their concert in Altamont. Mexican bandit Joaquin Murrieta and Three Finger Jack were known to frequent the Ryde Hotel bordello.
I have written extensively about the Ryde Hotel and the town of Locke, so I am not going into the history with this article, but I will tell you what we did and what we captured.
The Bok Bok Man in the town of Locke was known to carry a lantern and wake up the town people by hitting a drum of sorts that sounded like Bok Bok. People have claimed to see a swinging lantern in the middle of the night and they think it is the ghost of Bok Bok Man. We captured an EVP at the Bok Bok Man's starting area, that said 'yes', when we asked if he was around. The K2 meter was going crazy all over the town of Locke. We investigated the Locke Chinese School and afterwards ate Chinese food at the Locke Garden and waited for my investigator Ben Hall to show up.
On John's camera, this looks like a full body apparition, to the far left of the photo, but on the computer, it looks more like distortion. I will leave it up to the reader to make their own decision.
When Ben showed up, we headed over to the famous Ryde Hotel. We captured many orbs in our photos. Disclaimer: Orbs are not absolute proof of the paranormal. John Shue caught what looks like a full body apparition in the ballroom area. Rhonda feels the sadness of 'Little Girl Blue' entity and starts crying. Many people have witnessed the ghost of a little girl in the ballroom.
Ben Hall hears walking on the gravel and there is no one there. Jennifer Newell and I hear a splash in the pool and there is no one there. We had a couple of comical moments at the Ryde Hotel, there were people dressed up in 20s outfits and a lady who was drunk kept yelling she was Rosemary's Baby in a baby's voice. She was in her 60s. Then we found a open door to a room and were looking inside and an old man walking sideways inside the room pops up at the door and he looked like a ghost, it made our hearts skip a beat for a second.
After the Ryde Hotel we went to Quiet Haven Memorial Park Cemetery at 9899 Elder Creek, Sacramento, CA. There were orbs galore in all of our photographs, huge designer orbs, etc. We captured 2 EVPs that sounded 'Russian'. The graves were mostly ALL Russian. Ben heard a woman out in the fields, with his ears. I saw a ghostly white hand gesturing me to come over to the location of a tombstone. As I walked to the hand, it went behind the tombstone and the tombstone displayed a picture of an old Russian woman. Could it be that the old Russian woman was gesturing me to her grave?
Article Copyright© Paul Dale Roberts - reproduced with permission.