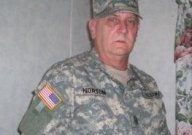 The saga of CSM James Norton: detained
Posted on Saturday, 9 April, 2011 |

15 comments
Columnist:

Paul Dale Roberts
Here is the latest update on Command Sergeant Major James Norton, the active military man ( who claimed to have possession of a piece of debris from an unidentified flying object and has it buried at his property. ) CSM James Norton has been told to keep his mouth shut, the NSA (National Security Agency) wants to talk to him and he has been detained and now released. Below, are the comments of CSM James Norton.
CSM James Norton ( via Facebook ):
I was at Ft.Benning at the range where everything happened in 1977 today. I was detained by Military Police.I was told that the post commander wanted to talk to me. My vehicle was searched and my cell was taken from me, I was escorted off post. I was followed off post and the two vehicles were behind me all the way back home.I was told by one of people that the NSA would love to talk to me. I was told that I better keep my mouth closed or something might happen to me!
Kevin Smith:
At 12:17 pm (noon) yesterday James phoned me to say that he was ok. He said he had not been answering his phone because he had been very busy checking with lawyers to make sure he was "covered" before he pressed forward with his disclosure activities. I told him that we were all concerned that he may have been arrested and he sort of chuckled and said "No, I haven't been arrested or nothing like that. They don't have anything to arrest me for. I haven't done nothing to be arrested for." Then he repeated that he had just been busy talking to lawyers before pressing forward
Stanton Friedman:
Stanton Friedman: I am not surprised. One should have data in hand before putting mouth in gear.
Fort Benning incident witness "Ocelot":
Paul, I heard what happened to the Command Sergeant Major, I was going to step forth, reveal myself and talk about what happened at Fort Benning, but I had an incident today. At 5am (he is talking Pacific Standard Time) I went out to my car, I was getting ready to head to work and I saw 5 black sedans parked in from of my house. The sedans were Chrysler 300s I think. Driving the vehicles were either military men or government men, wearing suits and sunglasses. As soon as I walked towards my car, they all left at the same time. They continued to stare at me, as they drove off. I'm OUT! I'm out of the game and I am not going to reveal anything else. I am not going to put my family, my life in danger. Grab a clue, the government is NEVER going to reveal this to the public. It's over with. Got to go.
Additional note from Paul:
Robert Winter and his team of Ufologists that are made up of scientists and former police officers were ready to fly to Alabama to analyze the debris. If I ever get any information like this again, the information will go directly to Robert Winter's group. There will be no publicity beforehand, because it is essential that we get the evidence first. I was told to get the story out, so reliable and dependable UFOlogists would get out there and retrieve the material for analysis, but it all back fired. SyFy Channel's Fact or Faked were prepared to fly down to Alabama to analyze the debris also. If I ever get a chance like this again, the only group I will trust is Robert Winter's group (The Winter Group). This has now happened to me once, shame on them. It it were to happen to me twice, then it would be shame on me. There won't be any 'shame on mes'. The truth will one day be revealed!
The previous article on this story can be found -
here
.
Article Copyright© Paul Dale Roberts - reproduced with permission.