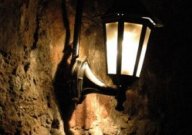 The Knob Kerrie phantom
Posted on Wednesday, 13 April, 2011 |

1 comment
Columnist:

Paul Dale Roberts
I received a call from South Africa. The lady on the other line wanted advice. I listened to her story with some constraints and doubt, because the story was incredibly odd. I tried to determine if she was relating a subjunctive story that has no validation for her claims of high strangeness. I wondered if she really experienced this phenomenon or was it her imagination? On the night of January 28 at 2400 Hours she was awakened by a phantom that was carrying a Knob Kerrie. A Knob Kerrie is a strange African weapon that can be used to beat a man senseless. She made contact with a local ghost hunting group and by using a klystron, they were able to detect audible African language in real time.
The ghost hunting group conducted an investigation, without any cleansing. Three nights after the investigation, the phantom with the Knob Kerrie appeared again by her bed. The phantom stared at her intensely. When the phantom dissipated, she discovered the phantom brought pestilential upheaval in her bedroom, there were flies everywhere. Two nights later the phantom once again showed himself to her, as she came out of the shower and it was more ithyphallic in nature, she felt the phantom was trying to violate her and she screamed in terror. The phantom once again vanished. From the story she has told me, it does not appear to be a residuary type of haunting, but an intelligent haunting. The entity is definitely attached to her and from what she tells me, he is no longer carrying his Knob Kerrie. The way I see it, the entity would have been carrying the Knob Kerrie, because he felt she may be a threat. His later appearance tells me that he is now attracted to her and has gotten rid of his weapon and wishes for some type of intimacy.
This lady is terrified. I provided her with a method of cleansing that she can conduct in her own home and suggested a cleansing she needs to conduct on herself. She will be contacting me again in two weeks and she will let me know if the cleansing was successful. SPECIAL NOTE: I spoke with the lady's husband, he makes claim he also saw the phantom on the night the phantom approached his wife as she was coming out of the shower. This gave credence to her story, another witness to her strange event.
Before I hung up the phone, the husband asked me one thing. "Paul, how is it that you can do this stuff? Why do you chase the unknown?"
I simply told him: "I Like It".
Article Copyright© Paul Dale Roberts - reproduced with permission.