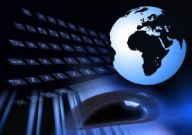 The ultimate social networking website
Posted on Sunday, 22 April, 2012 |

8 comments
Columnist:

Jann Burner
I've been reading a lot lately about Social Networking websites and the phenomena in general. Where is this headed? In the near future what will be the ultimate social networking website. Think about it: in the beginning, long, long ago there were messages carved in stone and then there were notes on parchment sealed with wax and then came the postal service and hand written letters and then with the machine came type written letters and then with computers came the beginnings of Email and then "texting" and "Twittering" and all the social networking websites where people would go just to feel "connected" and share gossip and photos and a lot of "nothing". Well, Moore's law still seems to be in effect and the speed and the capabilities of computers seems to be doubling about every 16 months so here is what I see in a couple of years.
The ultimate social networking website will be called simply "Be Here Now". And the point will be that hundreds of thousands, (perhaps millions) of people will be able to log on to the same website at the same time. But on this website there will be no sharing of photos or messages or gossip. It will simply be a place where you can go and "KNOW" that there are hundreds of thousands of other conscious entities focused on that same spot at that exact same moment! No matter where you are located on the planet, if you are feeling low, depressed or sad and lonely you can go to this website and focus your attention on the graphic that will be displayed and you will feel better. You will feel the mental energy from the thousands and thousands of other humans focused with INTENTION on that spot at that instant! And if you are feeling good and centered, then you can show your love of humankind by going to that same website and focusing your positive intention on that exact spot.
Meditating can be a wonderful thing. Ten people meditating together can be stunning. One hundred people meditating together in unison can be awesome! One thousand or one hundred thousand people focused with supreme intention on the same spot at the same instant can change the mental frequency of the planet…
There will be no "leader", no "religious dogma", nothing to learn or contribute to or become part of or alienated from. It will simply be consciousness present in the moment with focused intention. Sort of like a celestial "hand-warmer". Check in from time to time no matter how you are feeling. Watch the cosmic "night light" increase in intensity.
Article Copyright© Jann Burner - reproduced with permission.