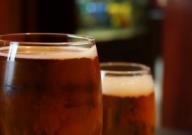 Jude's
Posted on Saturday, 27 October, 2012 |

3 comments
Columnist:

George Bothamley
Jude's is an old English legend that dates back to the early fifteenth century. Rumour has it that Henry VIII was so intrigued by the stories of Jude's that some time in the 1530s he sent a small garrison of soldiers of on a secret mission to find the fabled pub. They were told to scour every inch of the country until they located it for him, at which point Henry planned to join them and explore the fabled pub personally. Unfortunately Henry's men never returned from their mission. Two months in to their search they vanished without a trace, never to be seen or heard of again.
To this day people share Henry's fascination with Jude's and the search for it continues.
Somewhere in England there is an old cathedral town that holds a long forgotten secret. Situated just a stone throws away from the fashionable twenty first century high street, it stands at the very end of a barren side street, a street that is not listed on any map or visited by any of the town tour guides. Unlike any other part of the town, this street has no medieval charm, no houses with colourful doors or pretty flowers outside. It is an arrow straight road, walled on either side, with a single building at the far end. Jude's Public House.
For its whole life Jude's had been the same; an ugly, unwelcoming block of cracked stone and dead vines, with rotten boards marking the places where windows should have been.
And yet it never failed to attract visitors. Sometimes it would wait years, decades even, for the right person to come along, but when they did Jude's could always draw them in.
It had last done so thirty years ago, when a building contractor and his father, an ex pub landlord, happened to stumble across the building while on a shopping outing with their respective wives. They were looking for the perfect location to start their own family business, and this old building they had found had huge potential. The son could give it a thorough make over; turn it in to a twenty first century take on a proper, old fashioned, English pub, and then the father could run it. It was the English dream.
For months the two of them spent almost all of their spare time discussing the building; painting imaginary pictures of what their pub would eventually look like and going over everything they would need to do to make their dream a reality. They even commissioned a local artist draw up an impression of what their pub could look like, just to get them even more excited.
A week before they were due to for a meeting with local council members to discuss their plans, the two of them were granted permission to take a little trip inside the old building.
It was a grey winter's morning when, with their hardhats on and torches in hand, they ventured into Jude's. And they were never seen again.
They were not the first, and would not be the last, to succumb to the curiosity of what lay behind that rotten old door. Over the years men, women and children had all allowed Jude's into their heads and had their minds corrupted by it.
There it stands, in its own shadow, enticing you towards it, daring you to step just a little closer. And suddenly you just cannot turn around and forget about this building. You need to see it closer, to know what it is or what is was. Disregarding all plans you may have had for the day, you turn your back on the path to the high street, and you walk.
It matters not if the weather is warm or cold, as you draw nearer you will feel Jude's icy grip, like winter's chill piercing your very soul. The skies above you start to feel much greyer, and any light you may have had in your heart is replaced by a darkness which dances through your veins like blood in a stream. But you press on, telling yourself
Just one look and then I'll go
.
The shadow of the building consumes you, and you can smell the damp walls and the dead vines. Above you, your eyes spot something that they did not notice before. It is a badly weather worn sign hanging above the entrance. The picture on it is far too faded to see, but there is a word that, with a squint, is just legible.
Jude's.
You stand outside the building for a strong minute, making sure to take in every unattractive inch of it, but your curiosity does not ease. Jude's is in your head now, and you just have to take a quick peak inside.
Just one tiny look and then you will turn back around.
The front door is extremely heavy to push and behind it you are met with a wall of total, uninterrupted blackness. You half expect bats or birds to fly out at you, or the door to creek open as you push it further. But this is no Hollywood movie and the darkness that you are stood in is completely silent, as if even the door hinges have no life in them anymore.
You take your hands from the door and its sheer weight forces it to swing back in to place. The air turns sour and thick as the darkness around you becomes complete.
With your eyes rendered useless, your other senses try desperately to paint a picture of your surroundings. And then, you hear it. A faint sound drifting through the darkness. You have to hold your breath to hear it properly, but it seems to becoming from somewhere to your left, and it sounds almost like a piano. That piano sound is Jude's speaking to you but you do not know it. All you know is that you cannot leave now without finding the source of this noise.
You feel for the wall behind you, and then slowly start shuffling your way along it, following that dim sound you think you can hear. Soon you cannot tell how far you have come, or for how long you have shuffled. The daylight you left outside seems like a distant dream, and the piano you think you heard has become no clearer, in fact it seems to have stopped.
But then you spot something. Dead ahead of you. A dim strand of light escaping from the bottom of what can only be a door. Every last sense in you is screaming for you to turn back, but it is too late. It was too late the moment you took those first steps nearer to the building, just wanting a closer look. Now it's as if you are no longer in control, Jude's has you on a string.
You take your hands from the wall and creep towards the glow. As you approach, you start to hear that faint piano sound again. It must be coming from the other side of the door.
Your hands seem to know exactly where the door handle is, and with a small turn the door opens no argument.
The scene you find is nothing short of mind blowing.
Lit by flickering candlelight and with the feeling of a room which had not been cared for in decades, you have entered in to a large pub lounge. The floors are faded bare wood, the walls are a dusty grey, and there are thick cobwebs decorating the ceiling. Much of the floor space is empty, although to your left there are a dozen or so small round tables dotted in no particular order. But most surprisingly of all is that there are people in the room . . . quite a few people. Sitting at one table are two men, both wearing hard hats, who look as if they are deeply involved in some sort of paperwork which is laid out in front of them. On the floor in the centre of the room there are four young children, dressed in what seems to be some sort of Victorian era fancy dress, sitting in a circle rolling a ball across the floor to one another. In the far corner, an old man is sat with a book, not so much reading it more like staring blankly at it. And at the bar, four men and two women are sat in a line, all slouching heavily on their stools.
With all these people you would expect there to be some noise, a dim chatter at the very least, but there is nothing. The room is as silent as the blackness you have just left; the only noise being that faint piano sound.
Suddenly your peripheral vision catches two figures appearing from a doorway behind the bar. A bald, beer bellied man of at least seven foot and a small round woman with an ill favoured stare. Their ages are impossible to place, but their clothes look ancient.
The man starts pouring a drink, and the woman just stares at you, with sharp green. You try not to look at her, you try to look at anything but her, but eventually your eyes stray in to hers, and they are held there, in an invisible clamp, for as long as she sees fit. Then with an evil grin she says
'Welcome to Jude's'
Her tone completely contradicts her statement; it is more like an order than a welcome. She nods at an empty bar stool, beckoning you to sit, and you do so with no question.
The seven foot man slams a glass filled with some dark liquid in front of you, and then as quick as they had appeared they both disappear back through the doorway.
You take another look at the people around you, and shake your head with disbelief at you discovery. Imagine what your friends and family will say when you tell them what you have found, they will be stunned.
You reach for the dark liquid and take a sip. To your surprise it is delicious; some sort of stout.
You glance up at the clock behind the bar, and in your mind say to yourself
'I'll just have this drink, and leave in ten minutes or so'
And for ever more you will remain sat at that bar, glancing up at the clock every so often, your mind still repeating those final thoughts.
'I'll just have this drink, and leave in ten minutes or so'
Article Copyright© George Bothamley - reproduced with permission.