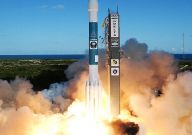 Satellites – keeping the peace
Posted on Friday, 27 December, 2013 |

1 comment
Columnist:

Waspie Dwarf
On 6th December an Atlas 5 rocket roared into the Californian skies. On board was a satellite known only as NROL-39. It's design, purpose and mission kept secret by its operators, the National Reconnaissance Office.
According to analysts the satellite was probably the 3rd of 5 Topaz radar imaging satellites. Part of the NROs Future Imagery Architecture (FIA) programme. It uses radar to take images with a resolution close to that of optical imaging spy satellites but has the advantage of being able to see through cloud. The FIA programme has been problematic. Years behind schedule and greatly over-budget the optical part of this programme was abandoned altogether (gifting NASA two Hubble class telescopes in the process).
I don't wish to talk about this programme in detail, but rather I wish to address the issue of military reconnaissance satellites in general.
The subject of reconnaissance satellites tends to elicit a couple of responses. The first is about the Big Brother state, personal liberty and the invasion of privacy. The subject of the state spying on it's own citizens is a complex one and is not something I want to address here.
The second response is usually to call reconnaissance satellites a waste of money and to say how much better it could be spent. It is this issue I want to deal with.
There will always be those that object to any military spending. It is a view I can sympathise with but can not share. In an ideal world there would be no need for any nation to have a military. The problem is that we don't live in an ideal world. We live in a world where nations are just as likely to be run by a Stalin, a Hitler, a Pol Pot as they are to be run by a Mohandas Gandi. The single most important function of an sane government is the protection of its citizens and, regrettably, that means having a military.
Since the end of the Second World War the peace between the superpowers was ensured by a philosophy called M.A.D – Mutually Assured Destruction. The knowledge that both sides would be annihilated if either attacked meant that neither side could win.
However, since the 1960s another factor has helped keep the peace – the spy satellite. The USA and the Soviet Union (now Russia) have spent fortunes on these satellites. The Chinese have now joined this super power race. These satellites ensure that each superpower knows what the others are up to. None can launch a surprise attack. No one side can achieve a tactical advantage in launching a war. The superpowers have been forced into a position of trust because, militarily, it is very difficult for them to lie.
I believe that the money spent on military reconnaissance satellites has been well spent. It is money that helped prevent the cold war heating up. It is money that helped prevent the global nuclear destruction that many felt was inevitable during the '60s and '70s.
The fact that we are here to argue about whether spy satellites are a waste of money is, in my opinion, the best evidence that they aren't.
Article Copyright© Waspie Dwarf - reproduced with permission.